1. Speak with the homeowner
Point out carpet stains during your pre-inspection. Ask your customer if they know what the stain is, how long it's been there, and if other cleaners or the homeowner, have used anything to remove it.
It might already be a lost cause, so always under-promise and over-deliver.
2. Pre-Test
Always pre-test by applying a small amount of spotter in an inconspicuous area. You should also determine the carpet type. You should be fine with most nylon and polyester carpets (wool and other textiles require special care that is not addressed in this article).
3. Clean and Extract
Many stains will come up simply by using a good pre-spray, agitation with Brush Pro, and then extraction with a powerful truckmount. This is especially true of stains on polyester carpet (which doesn't really stain). Stains on polyester are generally oily spots that have attracted dirt and have taken on a dingy color. Hot extraction cleaning will be the best option here.
4. Use Spotter(s) as needed
See the outline below.
5. Rinse and extract spotting solution
Make sure you remove all spotter residue. If you don't, the residue will clean off the soles of those walking on it and lead to resoiling.
6. Mist Spot Stop onto the cleaned spot to prevent resoiling and wicking.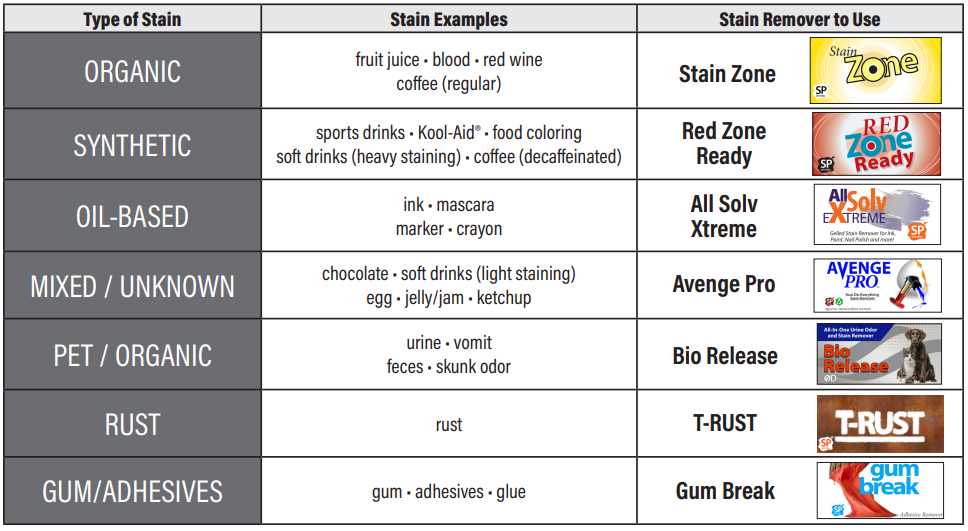 Type of Stain: Organic
Examples: fruit juice, blood, red wine, coffee
Use: Oxidizer – Stain Zone
Type of Stain: Synthetic
Examples: sports drinks, Kool-Aid®, soft drinks (heavy staining), coffee (decaf), food coloring
Use: Reducer – Red Zone Ready
Type of Stain: Oil-Based
Examples: lipstick, mascara, marker, crayon
Use: Solvent – All-Solv Extreme
Type of Stain: Mixed or Unknown
Examples: chocolate, soft drinks (light staining), egg, jam/jelly, ketchup
Use: All-Purpose – Avenge Pro
Type of Stain: Pet or Organic
Examples: urine, vomit, feces, skunk odor
Use: Urine – Bio Release, All-in-One Urine Stain Remover
Type of Stain: Rust
Examples: rust
Use: Rust – T-Rust
Type of Stain: Gum Break
Examples: gum, adhesives, glues
Use: Gum Break
See our Spotting Guide for instructions on how to remove over 100 stains on carpet, upholstery, and hard surfaces. You can add this link to the home screen on your phone and refer to it as needed in the field.