I'm sure by now you've seen, read, or heard just about every discussion regarding counter-rotating brush machines (CRB's). As such, I'm equally sure you've come to realize that these are an industry staple and a "Must Have" for cleaning contractors. In case you have not had the chance to familiarize yourself with these units or have not seen the value as of yet, let's review so you can see what all the buzz is about.
Do I Need One?
Well, yeah! CRB's are one of the most versatile tools we have in our industry. They are used in many segments of our business which include, but may not be limited to the following: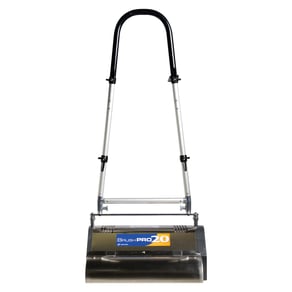 Encapsulation Cleaning

– The right CRB is excellent for low moisture cleaning using encapsulation technology. It's easy to learn, easy to train technicians, and offers very high production rates, often exceeding 3,000 or 4,000 sq ft per hour.

Agitation prior to extraction

– These machines are often used during hot water extraction. They allow you to aggressively agitate your pre spray into the carpet suspending soils and oils for better removal.

Pile lifting

– Some of these units can be used as a pile lifter. Though they do not have suction, the mechanical action will lift sand, hair and other heavy particulates from the carpet and deposit them into the collection trays (certain models) and stand the fibers up for better cleaning. They often remove soils a standard vacuum may not reach.

Hard Surface Cleaning

– These machines work very well for agitation prior to cleaning tile and grout, concrete, and even some stone (test first and use correct brushes).

Hard wood Cleaning

– Many contractors are now adding maintenance cleaning of hardwood using absorbent compound and their CRB.

Rug Cleaning –

for the reasons mentioned above, removal of heavy particulate soil, agitation, and cleaning of hammered less expensive rugs to investment grade rugs can be achieved using a quality CRB. BE SURE you understand what your machine is capable of. Some may not be suitable for this application.

CRB's are typically much lighter weight than other "powered tools

" that are designed for some of the procedures above. They also do not take up a lot of room in your van or can even be disassembled in a few seconds if space is really an issue.
At the very top of the list of units in this category is The Brush Pro by HydroForce™. The Brush Pro leads the industry in power, performance and reliability and they are the best built best backed units available. They come in 17" and 20" models, you can attach a tandem bar that will enable you to run two machines side by side, there is an onboard sprayer option that can easily be added or removed when desired, and there are 4 types of brushes available for various surfaces. Click here to review spec sheet for The Brush Pro
How Much Do They Cost?
I'd like to answer that with a real-life example. Years ago, I was teaching a class on encapsulation cleaning, featuring The Brush Pro and The Bridgepoint Encapuclean Products.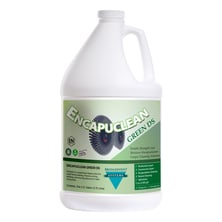 After the class and after the demonstration portion, a cleaner asked, "OK, I see the need, but what's this really going to cost me"? My answer was, "well, it's actually FREE". By this time, a few others had gathered around for "The Catch" and of course they were like, Whaaaaaaaat?
I explained that as part of the class special, we were offering 10% off the price of the machine and in addition, if they purchased that day, they got a case of Encapuclean for free. Ok, so a few hundred dollars in savings, how is the machine free?
Here it is:
Encapuclean Green DS is a 1:32 dilution making 33 RTU gallons. Each RTU gallon covers up to 500 sq ft depending on soiling conditions and fiber type. That's over 16,000 sq ft per gallon or 6,400 sq ft per case. At a cleaning rate of only .10 per sq foot (conservative in today's market) that by the time that free case is empty, you've earned well over $6,000 in revenue. That's almost enough to buy the Brush Pro twice over. So, you see, it's FREE. I think we sold six Brush Pros in that class, and several more over the next few weeks. Sometimes, we just need to get out of our own way.
Guess what, Aramsco is offering that same promo for the month of January 2023. That's right, purchase a Brush Pro (20" or 17") during January and you will receive 10% off the list price. In addition, you will also receive a free case of Encapuclean Green DS. Encapuclean Green DS is a benchmark encapsulation product from Bridgepoint. Excellent cleaning, exceptional coverage rate, works on the widest variety of soils and has a polymer that repels soils making future vacuuming more effective, helping carpet stay cleaner longer.
Whether you need a CRB, need to add CRB's to your arsenal, or need to upgrade a CRB, January 2023 is the perfect time to make this happen.
Reach out to your Aramsco Sales Representative for more details on The Brush Pro or any other cleaning equipment or chemistry.
-Steve Johnson