This is an important question. While nothing like the magnitude of what we are currently experiencing with COVID-19, we have gone through periods of business disruption before. Whether it was economic, pandemic, a polar vortex, or something else, professional cleaning contractors have been shut down before. Each time this happened, the demand for cleaning services spiked dramatically once the situation stabilized. Sadly, I've seen numerous cases where a contractor was not prepared to go back to work, and his business suffered because of it. It's important to your business that you not allow this to happen.
I've been very encouraged the past two months reading message boards and monitoring social media (and to be fair, frustrated a few times). I see contractors reinventing themselves and looking for new opportunities to provide services to customers to create a healthier indoor environment (yes we've had to do some training and correct some dialogue to prevent misinformation being spread, but that's a good thing). I see them reaching out to others for advice and I see contractors helping contractors. I see a lot of contractors getting on webinars and participating in on-line business and educational seminars, all of which will help them through these trying times.
Like you, I am watching and I feel things are calming a bit and we are getting closer to a sense of normalcy. As such, we are likely to see a demand for cleaning services like never before in both the residential and commercial markets. We need to prepare and ensure ourselves and our customers that we are ready to go back to work.
Granted, many of you are already prepared, or well down the list of "must do's", but let's review to be sure.
Now is the Time:
Now is the time to completely clean your vehicle, inside and out. Homeowners will be watching. Vehicles should be thoroughly cleaned inside, as well as outside, and disinfected/sanitized where applicable. Nothing should be missed.

ALL equipment should be washed and disinfected/sanitized where applicable.

I encourage you to get any or all vehicle and equipment maintenance you can budget for done now rather than later, during the cleaning rush. It's likely all of those services will be very busy or significantly backed up.

Sadly, some may have been forced to reduce their staff or close altogether. Shutting down for a day, or longer, for maintenance or repair will be costly for a cleaner. You CANNOT afford to drop your van off for two days to get your brakes done.

Get into your truckmount service center to be sure all equipment is tuned up, spruced up and all oils, fluids, and filters are changed.

I've seen too many times where a cleaner had an unnecessary breakdown during his busiest time. Prevention is the best correction for this. The good news is that barring any major repair, none of this is very expensive, or at least a lot less expensive than downtime while it's busy.
Necessities:
Where do you sit with the basic necessities, and are you prepared for other opportunities that may arise on the job? Here are a few items (no particular order) that every cleaner should have, or at least be considering to ensure they are ready.
Disinfectants and wipes – We've encouraged contractors forever to have wipes on their vans. This should be standard practice now. You need wipes, as well as a quality disinfectant on every van, to wipe down equipment after every job. I foresee many property owners wishing to inspect equipment before it is brought into their home or business. This makes for a good proactive discussion on your part. There is also an opportunity to wipe down all high touch surfaces in the property as an add-on service.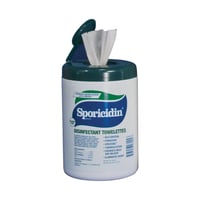 Disposable nitrile gloves, booties/shoe covers, and masks. This will likely become the norm, at least for a while. Every van should be stocked with these items to protect technicians, as well as keep property owners at ease.
Foam blocks and foil or plastic tabs
– These are easy to forget. You need to be well-stocked. Its likely most homeowners will want "deep cleaning" which means moving furniture.
In line filters like the HydroFilter or the CDV Filter box keeps waste tanks cleaner and helps reduce climbing into van and waste tank every job. This protects technicians and improves efficiency.
New vacuum and solution hose
. I don't mean to push anyone's buttons but it's a little sad to see the condition of some of the hose cleaners are using. You may want to at least have a newer nicer hose you take into the home. 100' of new vacuum and solution hose will send a good message to a homeowner.
Rakes, groomers, or brushes. This is similar to the question regarding your hose, what condition are they in? This is an easy and inexpensive upgrade to help send a good message.
Auto Pump Out System – Even though it's heavily regulated in most areas, many cleaners fail to put an APO on their van. I'm sure most of you dispose of your waste water properly, however, many do not. I think the days of dumping in the gutter, down the driveway, or on the lawn are over, at least for a while. Again, people will be watching. Fines are WAY more expensive than APO's. I still remember a customer in SLC many years ago that incurred a $12,000 fine for dumping in a parking lot because he wouldn't listen to me. Remember, the best correction for any problem is prevention.
Protector – Are you prepared with a quality carpet or fabric protector? Grout Sealer fits into this category as well. Protector repels soils and oils, spots and spills, stays cleaner longer, and makes the carpet easier to clean in the future. It helps maintain a cleaner indoor environment which again, homeowners are focused on right now.
Deep Cleaning:
It's likely homeowners will be more focused on "deep cleaning" than ever before. Are you prepared to offer these services, improve efficiency, and reduce fatigue due to high volume cleaning? This may also be a good time to consider raising your price a few cents per square foot which will allow you to offer a full "restorative" cleaning without having to rush through jobs.
Vacuuming – Many contractors have chosen to have their customers vacuum before arrival, to keep pricing more competitive. We encourage contractors to do their own vacuuming with a commercial grade vacuum before cleaning to ensure the best job possible. The Proteam 1500 XP is perfect for this application.
The Brush Pro or TM Series CRB machines are the premier way to agitate your prespray into the carpet. This improves the process and reduces fatigue.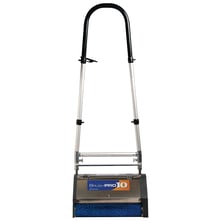 Do you own an RX-20 or Hoss 700?
These are great tools to offer deep extraction cleaning, reduce operator fatigue, and are very professional in the home. Others may prefer a tool such as the Bonzer or Zipper Wands.
Do you own tile and grout cleaning tools? Tile and Grout services, on average, earn .75 to $1.00 per square foot, which is often more than double the average price of cleaning carpet, depending on the market.

Other Opportunities:
Without becoming a "Jack of all Trades, Master of None", there are many services you can offer your customers to assist them in creating a happier healthier indoor environment. Most of these are very easy to learn if you are not already offering them.
I see an opportunity for more "Full House" cleans than maybe ever before. I believe you'll see some of the highest job averages you've ever seen and have several of those jobs that take the entire day, if not longer. Remember, people have been locked down for months, and this is right after a long winter. Their homes are in need of sprucing up and you are the perfect one to do this for them.
Whatever your core business is, I'm certain there are other services you can offer your customers. These services include, but may not be limited to: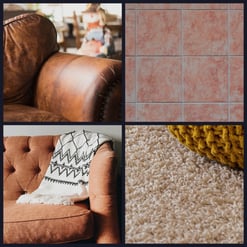 Carpet Cleaning

Tile and Grout Cleaning

Concrete and Stone Cleaning

Garages, Porches, Patios and Pool Decks

Upholstery / Mattress Cleaning

Leather Cleaning

Patio Furniture Auto and RV Cleaning

Hardwood Cleaning

Area Rug Cleaning (specialty and General)

Window Cleaning

Air Duct / Dryer Vent Cleaning
If you do not wish to offer some of these services, maybe consider networking with others that specialize in them. You can refer one-another to your best clients with confidence that they will be taken care of properly.
Last, but certainly not least, there may be a great opportunity to offer applications of a disinfectant or sanitizer to all high touch areas in homes and automobiles to assist your customers in creating that happier and healthier environment in which to spend time. Be sure to educate yourself on the proper product and application guidelines to accomplish these services. Your Aramsco Team can assist you with any products or tools as well as getting answers to questions you may have.
As stated, there is likely to be an unprecedented demand for cleaning services. Let's make sure we are out in front of this and help our customers to help themselves.
Please don't allow yourself to be unprepared. Make certain you are "Ready to Go Back to Work"!