Encapsulation solutions commonly serve two purposes, achieved by different sets of ingredients: First, there is a detergent that helps separate soils from the carpet. Secondly, encapsulations contain a polymer or similar ingredient that, as it dries, coats the carpet fiber providing a degree of soil resistance. Practically the soils have been isolated from the fibers and can be readily vacuumed away the next morning. Effective encapsulation does not stand on its own as its ultimate success is directly related to timely and efficient vacuuming by maintenance staff. The key to a good encapsulant is a proper balance between cleaning and soil resistance in a concentrated form. Some are great cleaners, but re-soil too quickly, while others are average cleaners with great soil resistance. The best products strike the proper balance between the two goals of cleaning and soil resistance.
If you need better cleaning, then you have a few options. You can increase the strength of the pre-spray by adding less water. You can apply an absorbent powder to attract some of the excessive soiling which is removed by collection trays available for most counter-rotating brush machines. For some carpets using an absorbent pad to collect extra soil is acceptable. The extraction option will always need to be used at some point, but in a building, it will not be at the same interval. Ground floors may need to be extracted every six months, but on other floors, it may only be needed every two years.
Encapsulation is one product category where there are many products on the market that use green ingredients without compromising their ability to get the job done. Several formulas in the industry have been verified by independent, third parties. Most formulas are also safe to use on wool. However, counter-rotating brush machines need to have soft brushes designed for wool. These third-party endorsements help sustain the popularity of this method.
Encapsulation is also a high-productivity method, which can be appealing to both cleaners and customers. In most cases, unless you over-apply you will end up with a carpet with a low level of stiffness. The first vacuuming will remove any remaining stiffness, even if over-applied. With encapsulation, you can move about three times as fast as extraction, covering between 2,500 to 3,000 square feet an hour. As bidding for jobs becomes more competitive, the amount of time it takes to complete the work is important to consider. When you have less expensive equipment and fewer labor hours involved, you can afford to bid at a lower price.
The main idea is to loosen the soil from the carpet. After you spray the solution, then you agitate. When you do that, it knocks the soils off of the fibers. Then the polymer dries around the soil so that it doesn't stick again enhancing the ability for the soil to be vacuumed out of the carpet. The polymer also surrounds the fibers and provides soil resistance.
The optimal way to use encapsulation products is:
Spray the product onto vacuumed carpets. For carpet that isn't visibly stained, apply the encapsulation evenly. It is recommended to spray more encapsulant on heavily soiled areas but avoid over-wetting it.

Go over the treated area with a

counter-rotating brush machine

, which will agitate the solution deep into the carpet's fibers.

It is a low-moisture cleaning method and should be dry to the touch in an hour depending on the relative humidity of the building. The next day it can be vacuumed to pick up some of the encapsulated soil. Regular vacuuming needs to be partnered with the encapsulation process to get the best results.
The result is a great improvement in the appearance of the carpet and in the duration of an acceptable appearance. It is one part of the carpet maintenance process along with regular maintenance vacuuming. It is an environmentally safer process that can be used on all carpet fibers. It is a low moisture process that can be effectively dry in one to two hours depending on the humidity of the building.
It is a process with high productivity rates and an easy-to-learn process with few issues. In short, as a maintenance system, it is unmatched by any existing methods.
Featured Products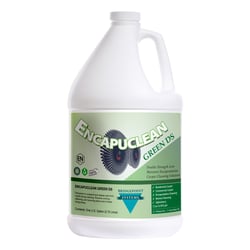 Bridgepoint Systems, Encapsulation Cleaner, Green DS, 1 Gallon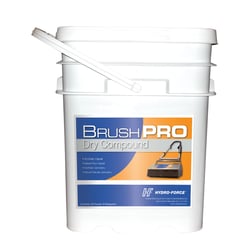 Hydro-Force, Dry Cleaner, Brush Pro Dry Compound, 20 lbs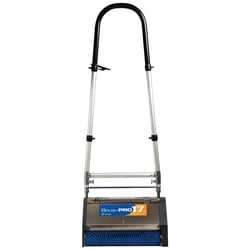 Hydro-Force, Counter-Rotating Brush Machine, Brush Pro, 17"