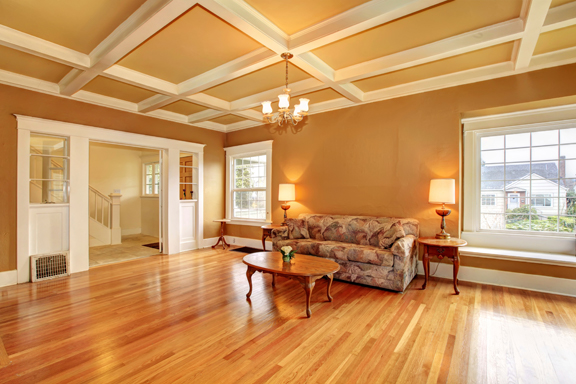 Many of us are familiar with the ins and outs of caring for carpet and ceramic tile flooring. However, several new types of flooring with less familiar names are becoming popular: LVT, LVP, WPC, and rigid core, to list a few. These floors were once a small segment of the market, but it's growing. They are the focus of this week's article.
The upward trend of wood, engineered wood, cork bamboo, LVT, LVP, and WPC (and there are more acronyms) is pushing cleaners to become familiar with these burgeoning, yet lesser understood floor types. So let's learn more about these products and their proper care and maintenance.
Hardwood
Hardwood's share of the hard-flooring market has shrunk from about 25% to about 22% over the last decades when measured by square feet. But, its market share in dollars has grown slightly.
A variety of species are available, including white oak, the most popular, with red oak, maple, hickory, birch, ash, and other domestic species, and some exotics such as Brazilian Oak ( AKA Amendoim), Brazilian cherry, and mahogany. The American hardwoods tend to be lighter in color. They blend well with traditional cabinets, wood trim, and furniture.
Hardwood may have a stain and a factory finish applied, or it may be installed and then finished in place. Hardwood is able to be sanded to a new surface when time and traffic have taken their toll. With proper maintenance and occasional sanding, a hardwood floor can still look great when it is 100 years old.
Even though it is called hardwood, it is not as solid as ceramic tile or stone flooring. The finishes on hardwood can be scratched and scuffed. Gritty soils under a shoe or a dog's claws can ruin a beautiful finish rather quickly. A heavy object dropped on the floor or even high heels can leave dents. Some species of wood are harder than others. Consumers may consider the hardness or Janka rating when selecting their wood floor.
Proper care for hardwood floors includes using sufficient entry track-off mats to keep dirt outside, regular dust mopping to collect abrasive soils that do get past the entry mats; cleaning with Hydro-Force Heavy Duty Hardwood Cleaner, and protecting the finish with Hydro-Force Preservation finishes available in either gloss or satin.
Engineered wood
A top layer of hardwood makes engineered wood look like solid hardwood. This hardwood layer varies in thickness for different products but is commonly 3 to 10 mils thick. Under the hardwood veneer are 3 to as many as 7 layers running at different angles similar to plywood. These layers not only reduce the cost compared to solid hardwood but make the product more dimensionally stable with changes in temperature and humidity.
The hardwood layer on some engineered wood floors is thick enough to allow sanding to a new layer when the surface gets worn. However, the most popular and least expensive engineered wood floors cannot be sanded.
Since the top layer is solid wood, cleaning and maintenance are similar to caring for hardwood.
Laminated flooring
Using a core of high-density fiberboard (HDF) or Medium Density Fiberboard (MDF), laminate flooring is topped with a photo layer to look like wood (or some other surface). There is no hardwood present, just a picture. A clear wear layer of aluminum dioxide protects the photo layer from wear.
Most laminates are sensitive to moisture. Even damp mopping may introduce enough water to result in the planks curling at the edges or ends of planks over time.
A build-up of household cleaners and/or hard water deposits can make a laminate floor look dull over time. Maintenance cleaning is best done using a professional product such as Hydro-Force Wood Fresh or Viper 7. If your client's flooring is looking dull, a restorative cleaning using Wood Fresh in distilled water can remove the unwanted residue and restore the shine. If an additional protective coating is required, use Hydro-Force Preservation wood finish. Apply thin coats.
Bamboo
Bamboo flooring comes in even more varieties than wood does. There is solid bamboo with the fibers running either vertically or horizontally; engineered bamboo and strand-weaved bamboo. All may be more sensitive to moisture than wood. Strand woven bamboo is produced by using chemicals to soften the fibers, pull them apart and then press them together in a resin. The final product is more tolerant of moisture and is harder and not as likely to dent or scratch. Because bamboo grows fast, it is renewable and considered a greener option than wood.
Cork
Cork is the bark of the cork oak tree. This is another renewable, green option and can even be made from recycled material. Cork is also hypoallergenic, and it resists mold growth although it may still warp or swell when subjected to excessive moisture. Some floors are solid cork while others have a top and bottom layer of cork with foam or other material in the center.
Being more pliable, cork cushions the impact of footsteps and may feel better for walking or standing for long periods. This is balanced by the fact that it also indents easier from high heel traffic or something heavy being dropped on the floor. Extended exposure to sunlight will gradually lighten the color of the cork.
All these flooring types can be installed using staples or nails through the tongue, glued to the substrate with adhesives, or snapped together into a floating floor. Floating floors will need an expansion gap around the perimeter and where the floor meets any stationary object. Without the proper expansion gap, floors will swell and buckle with changes in temperature and humidity.
Luxury Vinyl Planks and Luxury Vinyl Tile (LVP and LVT)
This group of products has been the hottest trend in flooring for the last 5 years or so. What makes them so attractive and why are they "luxury?" It is all about appearance and durability. They have the realistic look of wood, stone, or other materials. The surface is textured to add to the realism. The vinyl is thicker and more durable than other traditional sheet vinyl. The sections of flooring may be planks, tiles, or other shapes.
Manufacturers don't all agree on the best products or methods to clean and maintain their flooring. We have found that a neutral detergent cleaner like Viper 7 or Hydro-Force Wood Fresh does a good job.
WPC
Recently even luxury products have been improved upon. WPC can stand for "Wood Plastic Composite" or simply "Water-proof Core." Demos have soaked these floors for hours with no damage. Flooring customers love the realistic appearance, ease of maintenance and reduced chance of damage from moisture.
Here is what one of those products might look like. A clear wear layer or aluminum dioxide; a layer of luxury vinyl; a core of water-proof plastic and perhaps a bottom layer of cork or other material to absorb sound and provide insulation.
Maintenance Summary
Keeping grit and abrasive soil off all floors is a key part of maintenance. Be sure there is sufficient entryway matting both outside and inside. Dry soil removal with an untreated dust mop or vacuum cleaner is needed to remove the dry soil that gets past the matting.
Some of these floors scratch easier than others, but all can be scratched by sliding furniture, dogs' nails, high heels, and such. Felt pads under furniture legs can be helpful.
A minimum amount of moisture should be used on many of these floors. However, there is more to watch out for when cleaning than just water. Advice your clients to avoid products that use oils, soaps, waxes, and polishes unless specifically approved by the manufacturer. Over-the-counter products used by consumers and hard water may leave dingy dulling deposits that must be removed. Try distilled water or a mild acid rinse.
Regularly maintain with Hydro-Force Wood Fresh or another neutral cleaner. If a finish is needed to restore the gloss level, a thin coat of Hydro-Force Preservation Finish will do the trick.
Featured Products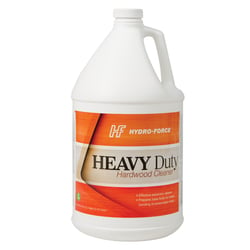 Hydro-Force Heavy Duty Hardwood Cleaner, 1 Gallon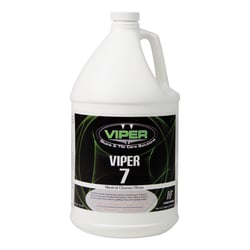 Hydro-Force Hard Surface Cleaner Viper 7 Neutral Cleaner, 1 Gallon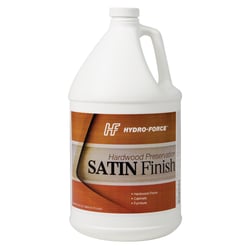 Hydro-Force Hardwood Preservation Finish Satin, 1 Gallon