Greasy carpet has always been an issue but has been exacerbated by the dramatic increase in the sales of polyester carpets. Oil loves to bond to polyester which also includes olefin and triexta fiber. Professional cleaners have demanded cleaning solutions that deal with the significant oil build-up. The result was a combination of non-ionic surfactants, high alkalinity, and solvent blends. Powdered formulas provided the only practical way to include d'limonene. This type of formula was designed for use on difficult oily & particulate soil prevalent in polyester type carpet and for carpets in need of restoration. This powdered high alkaline-based solvent and surfactant cleaner will remove years of built-up grease and soil, especially when combined with hot water extraction.
These professional solutions provide diverse alkalinity with pH >12.0 for multiple cleaning functions. Powdered formulas typically use sodium metasilicate, a safer combination of sodium hydroxide and sodium silicate. Sodium carbonate and sodium tripolyphosphate are also usually included. The presence of phosphate helps to rinse away the globs of soil and oils created by emulsification. Sodium carbonate is used to both keep the alkalinity from being too low or too high. One consideration is that the level of available alkalinity is limited by the desire that its shipping classification not be considered a hazardous material.
Most of these formulas also use solvency and surfactancy for additional emulsification. There are limits (10% of the formula) to the number of solvents and/or surfactants that can be absorbed by powders. The lower level of solvents, especially after dilution will in most cases make the product compliant to low VOC laws. Solvents that are not water-soluble, including d'limonene, can be added to powders. The addition of non-ionic surfactants serves to enhance degreasing as well as enabling the non-water-soluble solvents to be miscible in the ready-to-use dilutions. The miscibility holds the pre-spray in suspension during its time of use. Surfactants, beyond assisting emulsification, improve penetration, and provide lubrication during the process of mechanical agitation.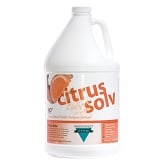 D'limonene, even in small amounts, has proven over the years to be considered as an excellent cleaning additive and pleasant deodorizer. Fragrance softens the odor of the volatile solvents and in the case of d'limonene adds degreasing functionality to its unmatched natural citrus fragrance. D'limonene will not change pH which increases aggressive degreasing at a high alkaline pH. It works on tough soils – tar, oil, grease, adhesive, filtration soil, etc. However, not all powdered formulas are created equal as some only add enough d'limonene to create a fragrance, but not enough to enhance the degreasing ability of the entire formula.
In short, high alkaline powdered pre-sprays infused with d'limonene have dominated the market for aggressive carpet cleaning needed for polyester-type carpets and restorative cleaning.
Featured Products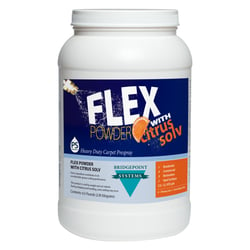 Bridgepoint Systems, Carpet Cleaning Prespray, Flex Powder w/Citrus Solv, 6.5 lbs