For years our industry has typically relied on solvents to remove gum and adhesives or similar, and with VOC restrictions now in 18 states plus the District of Columbia (DC), a quality product at a reasonable cost has become difficult, if not rare.
California has a 3% VOC allowance for non-aerosol spotting chemistry in our industry and using multi-functional products for removing gum and adhesive is considered spotting. While this percentage worked for most situations, gum and adhesives were allowed a much higher volatile solvent content under a special category to achieve removal. The result is several gelled products with high levels of d'limonene and additional low VOC solvents added to a thickening agent. However, there remains a need for a little different approach.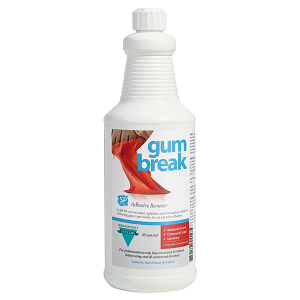 A few years back, we introduced Gum Break, a water-based gum, and adhesive removal formula that represents the next generation of gum and adhesive removers. We generally discuss products generically, except for the fact that Gum Break stands alone. Cutting-edge surfactant technology is the basis of this new type of formula. The new "super surfactant" (our nickname) has the properties of a solvent without having the VOC issues. The result is a formula with less than 3% solvent, the "super surfactant", two other non-ionic surfactants, a boost of alkalinity, and a thickening agent. The result of this innovation is a water-based formula in a 32 oz. size that is virtually the same price (sometimes less) than the traditional solvent-rich, VOC-restricted, gelled spotters in 16 oz. bottles, and with equal or better performance. The fact that Gum Break with less than 3% VOC equals or exceeds the performance of the industry standards, is revolutionary. Gum Break is ahead of its time. Join the revolution.
Testimonial
"Gum Break is a welcome addition to our options for gum removal. As solvents are becoming increasingly regulated, expensive, and potentially harmful to some, it's nice to see innovation that helps limit the number of solvents and VOCs, while retaining or even improving on their performance.
Our customers have been surprised at how well this product removes gum. Most were initially skeptical, due to its low solvent odor and low viscosity, but upon trying it, they were all sold. This product does an awesome job of removing gum without exposing techs or customers to offensive VOCs and reduces the risk of delaminating carpet backings that can sometimes be associated with solvents (sic)."
Jamin Thompson
Express Distributing
Billings, MT
Featured Products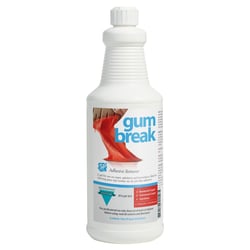 Bridgepoint Systems, Stain Remover Gum Break Adhesive Remover, 1 Quart