For some rug washers, this is a revolutionary thought. The attitude is that a rug is not clean unless my process is completely followed. Another way of saying this may be that I will not be able to stay in business unless I get between $4 to $6 a foot for every rug that I touch.
This statement may be true unless a business significantly increases the number of rugs that they clean. We know that hard surfaces are growing at a fast pace and that you will typically find an area rug on top of these hard floors. The number of rugs is increasing significantly but the value of the rugs is decreasing at a similar rate.
Here's the Dilemma
Let me illustrate the thought by describing a customer who has a large house with 17 rugs. The customer likes to clean all of her rugs every spring. She has a 7500 sq. ft. house, which means that a lot of the rugs are show rugs, meaning that they rarely are used and could be cleaned in the house.
Similar to most houses, there will be several rugs that are in constant use. This leaves a group of rugs in the moderate-use category. As a knowledgeable customer, I know that the rugs do not need the same level of cleaning every year and that all rugs are not worth the best cleaning charge. For a rug washer to suggest that they do would be disingenuous. This would lead a knowledgeable customer to only clean some of the rugs, or possibly to find a rug washer that is more flexible.
Offer different cleaning methods at various price levels to serve your customer
The main problem with cleaning on-site is that the tech may not identify the rug properly. IF you have a knowledge of rugs and IF you have a clear understanding of the proper method for each rug, then why not clean SOME rugs on-site. We first need to make sure that the customer knows that it will be a maintenance cleaning and not a restoration cleaning. Dusting will also be limited to thorough vacuuming. The cost for a maintenance cleaning should be considerably less than any type of in-plant cleaning.
I have maintenance cleaned rugs on-site for years. IF you properly vacuum, then a simple encapsulation or extraction cleaning is fine. Years ago we did a rug class in Salt Lake and I brought one of my heavy use Karastan rugs to the class. The instructors did a great job with a pit wash method and the rug was the cleanest it had ever been.
When I brought the rug back to the house, I told no one about its great cleaning, they just knew it had been cleaned. No one noticed how much cleaner it was than my previous encapsulation or extraction cleaning.
A rug washer should advise their customer to the right cleaning process for the type and condition of their rug. In this way, you might get all of her rugs to clean, not just the rugs that need the best rug cleaning. A customer should not be turned away by a cleaning charge worth as much as their rug. Using the good or better method with proper controls, even in the house, will bring more business from more customers.
Be flexible in order to meet the needs of the rug and the customer
My suggestion would be to suggest a practical approach. We have good, better, best methods available for cleaning rugs. Proper dusting is necessary for all rugs, but not at the same level. Thorough vacuuming on the back and front will be enough for the show rugs, while strap dusting will be enough for moderate rugs, and tumble-dusting along with air-dusting enough for the constantly used rugs.
The good cleaning approach would incorporate thorough vacuuming and low moisture encapsulation cleaning with a counter-rotating brush machine with soft brushes for wool for agitation. Apply an encapsulating pre-spray with an acid dye resistor and absorbent compound when necessary. Follow up with agitation, sediment collection, and last step grooming. The rug will be dry within an hour.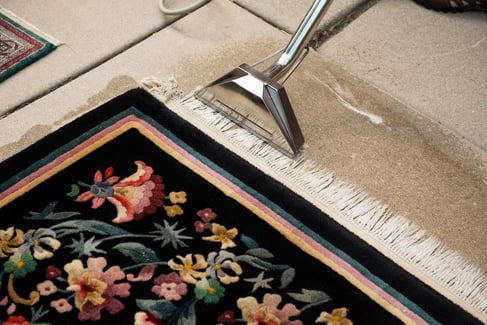 The better cleaning approach will involve appropriate dusting, pre-spray, and an extraction rinse. Apply a pre-spray designed and effective for wool. Extract the pre-spray with an acidic rinse which will leave the rug in a pH around a pH of 5.5. Use additional dry extractions to get the maximum moisture out of the carpet. Apply a protector designed for wool. Groom the rug to set the pile in the same direction and let dry overnight.
The best cleaning approach is what rug washers do on a daily basis and is only done in-plant. All rugs with potential problems like bleeding, urine damage, fragility, stains, etc. should be cleaning only in a plant. After dusting these rugs are washed in pits or washtubs with wool-appropriate cleaning solutions. The rugs are rinsed thoroughly with squeegees to remove most of the water. The rugs are then extracted or put into centrifuges. They are then moved to drying rooms, protected, and hung up to dry.
The conclusion of the matter is that most customers want their rugs cleaner. Choosing between a good, better, or best cleaning is probably more of a function of economics than reaching a high standard of cleaning. This is especially true when the $4.00 per sq. ft. cleaning charge is almost half of the purchase price of the rug being cleaned. Our society is on the verge of becoming a throwaway rug society. Many buy a rug knowing that they will replace it in five years sometimes meaning they will not clean it during its entire use in the house. This is a logical decision especially if they need to pay $4.00 per foot for a restorative cleaning on a rug they plan to replace in the next few years. However, if rug cleaners had a more flexible approach to their pricing and methods, they would probably get opportunities to even clean the throw-away rugs.
Like what you read? Help somebody else in the industry by sharing this article on social media below.
For additional training beyond our blogs check out our educational classes: Aramsco/ Interlink Supply Training Schedule (cvent.com)