LVT / LVP: Should I Be Paying Attention? In short, YEP! Many years ago, Bridgepoint Systems coined the phrase "Diversification Is No Longer Just a Good Idea, It's a Necessity". Rarely, if ever, has that been more accurate than right now, with regard to Luxury Vinyl Tile or Luxury Vinyl Plank Flooring (LVT / LVP). Resilient flooring continues to increase in market share, with LVT experiencing the lion's share of that growth.
The numbers change with virtually every article written and every presentation given. The latest numbers show that LVT finished 2022 with over $8.2 billion dollars sold consisting of almost 4.5 billion sq ft. With over 30% of the market going to LVT, and still expecting to rise "dramatically", the answer is YES, you should be paying attention. If you've not already done so, we recommend you subscribe to Floor Covering Weekly or research them online (or similar publications). There is a tremendous amount useful information available through these organizations that can help you in your business.
Does adding this new service make sense for you? Anytime you consider adding a new service, there is a four part equation that you should implement to ensure this service makes sense for you to begin offering to your customers.
What is my initial investment? How much do I need to spend to get into this? Can I write a check or put it on a credit card, or do I need to secure a loan and spread the expense over time?
What is my competition like? Is their room for me or is the market already saturated? Can I take this service to my existing clientele or do I have to go out and establish an entirely new target market to get an ROI on this service?
What is my labor like? Is this new service physically taxing on my body? Do I have to travel all over the country and go to all these seminars to learn it properly?
Is it profitable? Can I make any money at it?
Any time you have a service that is low initial investment, low competition, low labor and highly profitable, it makes sense to consider adding to your arsenal of services. The cleaning and maintenance of LVT absolutely checks these boxes.
The cleaning and maintenance of LVT evolves around three simple components, preventive maintenance, cleaning and restoring, and coating. As with any service, it is important to have the right products and the right technique to properly offer this service. We're confident this may be one of the easiest add-on services you've ever implemented.
Download the Viper LVT System Guide Here
This guide will walk you through the products and process of cleaning, maintaining and coating LVT.
Here is a brief overview of some of the key products and equipment needed. Refer to The Viper LVT System Guide for more detailed information.
Viper LVT Cleaner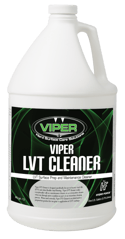 Viper LVT Cleaner is designed specifically for use on luxury vinyl tile (LVT) and other flexible vinyl flooring. Viper LVT Cleaner works exceptionally well as a maintenance cleaner, or as a restorative cleaner when run through micro scrubbers as part of an extraction cleaning process. A unique low foam surfactant is a key component. High residual products lead to rapid resoiling, premature wear and prevents the coating from bonding properly.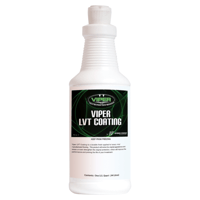 Viper LVT Coating is a durable finish applied to luxury vinyl manufactured flooring. This product will revive the original appearance and renew or even strengthen the original protection, which will improve the performance and prolong the life of your investment.
NOT ALL COATINGS are the same. This product is a urethane coating vs an acrylic or other type coating. It offers a translucent low sheen, exceptional resistance to soils and oils, resists issues caused by the sun, and has an 18 month wear cycle vs 3-4 months which is common to most coatings.
The perfect light weight yet durable micro scrubber for cleaning and maintaining LVT and other surfaces.
How To Guide for Cleaning and Recoating LVT
Thoroughly inspect floor for areas of concern such as physical damage, improper installation or separation of tiles, presence of wax or other DIY coatings, etc.

Tape off / mask adjacent areas or surfaces you wish to protect from moisture or overspray.

Pre vacuum or even damp mop area to be cleaned.

Slightly abrade surface with a low RPM rotary machine and maroon 3M pad, along with Viper LVT Cleaner. This will help remove and/or repair damaged areas of existing finish. Keep a good mist of LVT Cleaner on floor during this process. For heavily textured flooring, consider using a counter rotating brush machine (CRB) such as The Brush Pro, for this step.

Extract floor thoroughly using a micro scrubber with Viper LVT Cleaner running through machine. If excess foam is present from previous or poor maintenance, a final clear water rinse with micro scrubber may be needed to further reduce remaining residue. In heavy soil situations, repeat as necessary for best results.

Allow floor to dry prior to application of Viper LVT Coating.

Shake or stir container until any sediment is dissolved. Apply Viper LVT Coating directly to floor in light amounts. Work in small sections (approximately 50 sq. ft.).

Work coating into floor and spread evenly with a flat head mop and nonabsorbent microfiber applicator pad.

DO NOT over apply or allow to build heavily on surface. Viper LVT Coating covers approximately 800 sq. ft. to 1,000 sq. ft. per quart, depending on texture and porosity of flooring.

For best results, apply at temperatures between 55° - 75° F. Dry time is approximately 30 minutes. Wait at least one hour if applying a 2nd coat (optional).
Reviewing the original question of, "should I be paying attention" – The answer is absolutely yes. The sheer volume of LVT being installed every week in both commercial and residential applications is staggering, and increasing all the time. The opportunities are everywhere.