Gabe VanDusseldorp never planned to work in the restoration industry, but once he unexpectedly fell into it out of necessity he never looked back.
Growing up on a farm in South Dakota, he developed a strong work ethic and a knack for helping others. Gabe's upbringing was a quintessential staple that shaped his approach to life; his work ethic and can-do attitude bolstered his farm work throughout his adolescence, helping him spontaneously obtain opportunities as they presented themselves.
Van Dusseldorp's first serious job was as a store manager for a bike shop. As a college student living in Arizona, he needed a bike to make it around town to attend class and run errands. While he was purchasing his own bike, the store owner recognized Gabe's passion for biking and his need for a store manager.
Just like that, VanDusseldorp's career in retail began.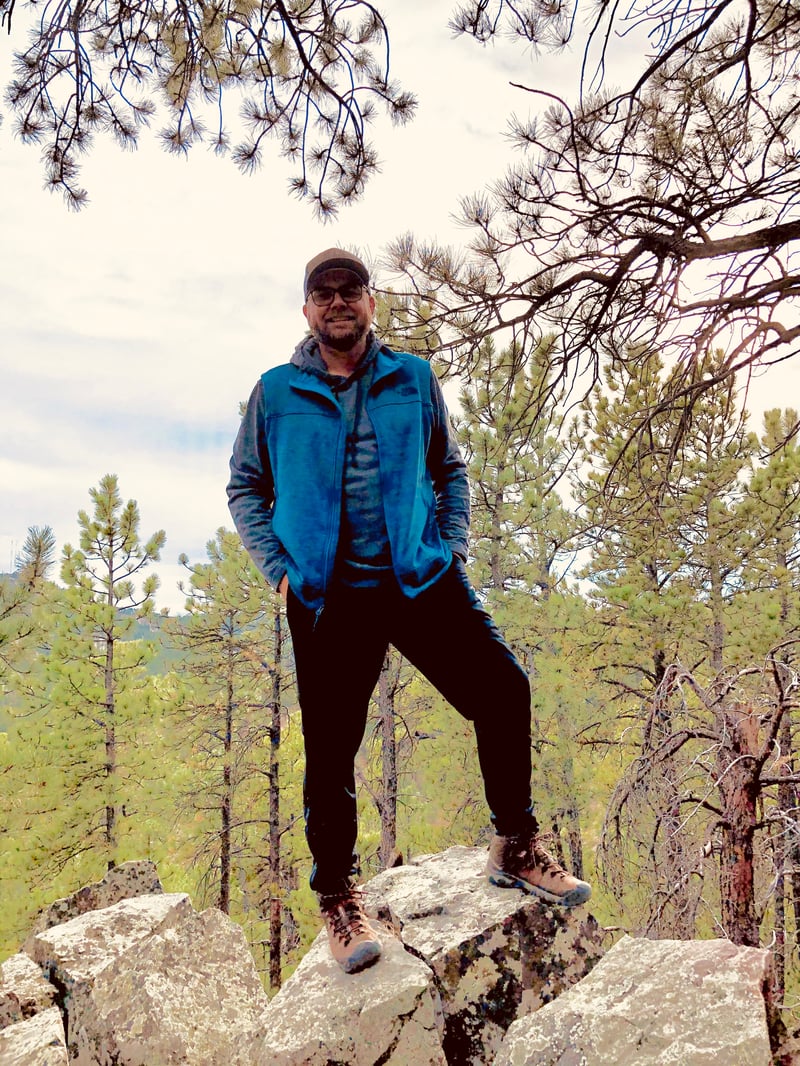 Gabe VanDusseldorp
Gabe's Transition from Retail to the Construction Industry
After five years of working as the store manager of the bike shop, VanDusseldorp's young family welcomed a daughter and Gabe quickly realized that he needed a higher-paying career opportunity.
After his daughter's birth, Gabe took a job as an office manager for a home-building company. After working there for a short period of time, he quickly realized that he wasn't designed for the sedentary working conditions of a desk job. His employer that the job didn't match his personality, and told him that the job didn't appear to be a great fit for him.
A dilemma presented itself: VanDusseldorp needed to maintain his employment with the company in order to provide for his family, and he couldn't just afford to quit. Fortunately, there was one other position that was open at the time, but it required working outdoors in the scorching 112-degree Arizona sun in the middle of June.
So at the beginning of 2005, VanDusseldorp made a career decision to work in the field. It would significantly impact his future in the restoration industry.
"I didn't know much about construction, but what I didn't know I learned. I became pretty good friends with the building instructors," VanDusseldorp recounts. By tagging around with the building inspectors Gabe began to learn the complexities of the home-building process. He pooled from the well of knowledge they had and began to develop a niche for walkthroughs and closing on homes with prospective home buyers.
The Great Recession Hits and VanDusseldorp Enters the Restoration Industry
Gabe continued to work for the homebuilders until the great recession hit in 2008 and he was laid off. "I stayed at home and cried in my beer for a little while because I was unemployed. But when you've got to feed a family you don't get to sit around and wait very long. I actually got a phone call from one of my buddies in my previous job."
Gabe's buddy offered him a unique opportunity. A house had burned to the ground in the middle of the night, and his friend needed somebody that could fix both sides of the dilapidated house. He offered VanDusseldorp the opportunity to rebuild the frame. This marked the beginning of his Restoration career.
"I had no clue what I was doing, but by that point, I had built close to 1,000 homes, so if I could build them from the ground up, I could fix them too," VanDusseldorp explained.
VanDusseldorp figured that rebuilding this house would be a one-off opportunity, but fate had other plans. As soon as he finished the job, his phone rang.
"I was putting the last coat of paint on the house, and my friend called me." Another emergency situation had arisen. "You're not going to believe this, but in another subdivision, we had a walk through and one of the kids turned the faucet on," his friend told him.
The water company hadn't turned the water on, but when they did later that night, it flooded the house. "The family hadn't even set foot in the house as homeowners, and their house was flooded. That was my second job. I had no idea what to do. I went to Home Depot and bought all the air movers, and then talked to a buddy of mine that had a couple of dehumidifiers. I didn't even know that Interlink Supply or Aramsco was a company," VanDusseldorp recalled with his characteristic chuckle.
Sometimes our only constraints in life are the circumstances that we find ourselves in. Because of the financial impact of the recession, VanDusseldorp had no job. With no other immediate prospects available to him, Gabe's friend and him decided to venture into the Restoration industry. This decision has shaped VanDusseldorp's career to this day.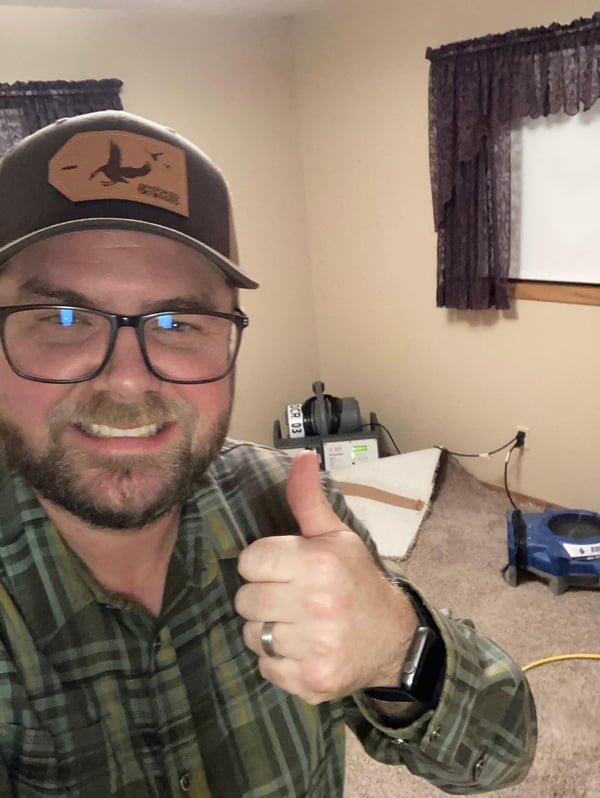 Gabe VanDusseldorp worked many jobs before finding his niche in the Restoration industry.
"I wasn't dipping my toe into restoration; it was baptism by fire."
VanDusseldorp and his business partner started a company called JPS Restoration & Construction. While he had to learn the ropes of the industry quickly, his previous experience buoyed him as he delved headfirst into water loss jobs. "We were super blessed, we were always busy. We found a really good niche in mold and drying jobs," VanDusseldorp admits.
This led Gabe to the first valuable lesson that he learned in the industry.
Lesson Number 1: Leverage Connections
Because VanDusseldorp was a homebuilder previously, he already established a sizable bank of plumbing connections. Instead of having to chase clients, Gabe was able to come in behind large plumbing companies after their work and be their restoration company of choice. The workload that he obtained from plumbers carried his business from January 2007 to March 2010 until VanDusseldorp parted ways with his business partner.
"My number one advice for contractors is that they should use the knowledge they have from their previous industry," VanDusseldorp advises. "A lot of restorers come from carpet cleaning, construction, or one of the trades. Make sure that you use the knowledge that you have to further your segment of the industry. For example, if you work in plumbing, start telling your plumbers about the services that you offer. By doing this, every time that you get a customer it's a personal touch," VanDusseldorp says.
"Become an expert in one or two things before you become an expert in everything."
Lesson Number 2: Diversify Your Experience and Use the Knowledge that You Have from Your Previous Industry
After his time at JPS restoration, VanDusseldorp moved on to work for Arizona Fire & Water as a project manager. "I saw very unique work. One day we would do a small water loss from a toilet line drying out, and the next day it would be something entirely different. The scopes of work were just massive. We also did a fair amount of trauma scene as well, VanDusseldorp recounts. "I got really diverse experience working there."
This diverse background eventually led Gabe to get a job with Aramsco as a Sales Representative so that he could fulfill his desire how to teach contractors how to work in a unique industry. While working for us, Gabe has spent extensive time consulting customers on how to grow their businesses and has helped match them up with the equipment that they need for everyday success through working in consultative sales.
VanDusseldorp believes that it is important to double down in a niche first in order to become the go-to contractor for these issues. After you have accomplished this, you can diversify the scope of your experience so that you can take on any type of work that comes your way.
Lesson Number 3: Make sure to Have Fun Along the Way
One of the first things that you'll immediately notice when you talk to VanDusseldorp is that he has a positive attitude and energy that permeates every one of his interactions. When Gabe was confronted with economic trouble he could have decided to throw in the towel, but he kept pressing forward, carving out his own path.
Throughout his journey as a contractor, VanDusseldorp has worked on many projects that have stood out to him, including crime scene trauma cleanup after the shooting of Senator Gabi Giffords, and consulting on cleaning up the Mesa library after the water heater burst that involved saving all of the books.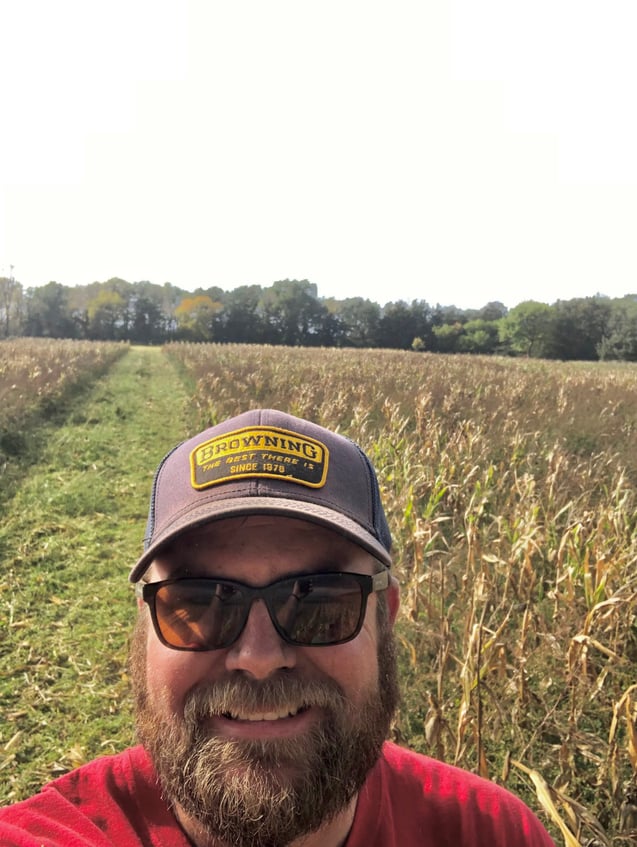 Gabe snaps a selfie in the cornfields.
Lesson Number 4: Pay Attention to the Small Details and Don't be Afraid to Innovate While Drying
VanDusseldorp's most memorable job involved saving a one-of-a-kind cabin hand built from logs that the homeowners personally cut and shipped from Poland from the forest next to where they lived.
"There was no price high enough to replace these logs," VanDusseldorp recounts. "We were able to dry the floor in place, and got the wood back down with no adverse effects. To my knowledge, the homeowners are still using the cabin today."
To get the job with the log cabin done correctly, VanDusseldorp had to use an Injectidry System, an E-TES, airmovers, and dehumidifiers.
"The idea is that you go in and you extract all of the standing water, and once you don't have any more standing water coming up through your mats, then you build a tent. You take plastic, form it over the floor, and you take the E-TES and introduce hot dry air into the tent. So you've got hot dry air going into the tent, and you've got the Injectidry sucking the hot dry air through the floor. It's basically like a convection oven, and the key to it was to just take small bites, drying it slowly so that it doesn't crack the floor because wood is alive," VanDusseldorp detailed.
When all was said and done, the $80,000 dollar job took three weeks to complete, but the end result was priceless for the homeowners who had their precious house saved.
Lesson Number 5: Don't Skimp on Being a Professional and Investing in the Right Equipment
VanDusseldorp understands that the widespread availability of equipment makes it easy to treat equipment like a commodity, but this is a giant mistake. It's bad for your business to skimp on the cost of your equipment just to save on your bottom line.
"In the restoration industry, you get what you pay for. If you're going to start a business, don't go cheap on your equipment because your equipment is what is going to make you your money," VanDusseldorp advises. "Dehumidifiers, air movers, and air scrubbers don't typically call in sick after labor day weekend, and they always show up on Tuesday. A lot of the equipment that comes in from overseas can't be repaired and will only last for a year."
That being said, like most contractors, VanDusseldorp has his favorite pieces of equipment that he prefers for drying.
"I really like the Syclone Low Profile Air Mover. It's a great budget product made by Dri-Eaz and they are tough; you don't have to sacrifice quality," he adds. "The Syclone Low Profile Air Mover is a great fit for almost everybody because at its price tag of right above $200 it's a great budget air mover that lasts."
Throughout his drying days, Gabe has also become fond of learning how to use niche products that help him stand out.
"Because of my background, I also really like specialty drying equipment like the Injectidry system. I also like equipment that will differentiate you from other contractors like the E-TES."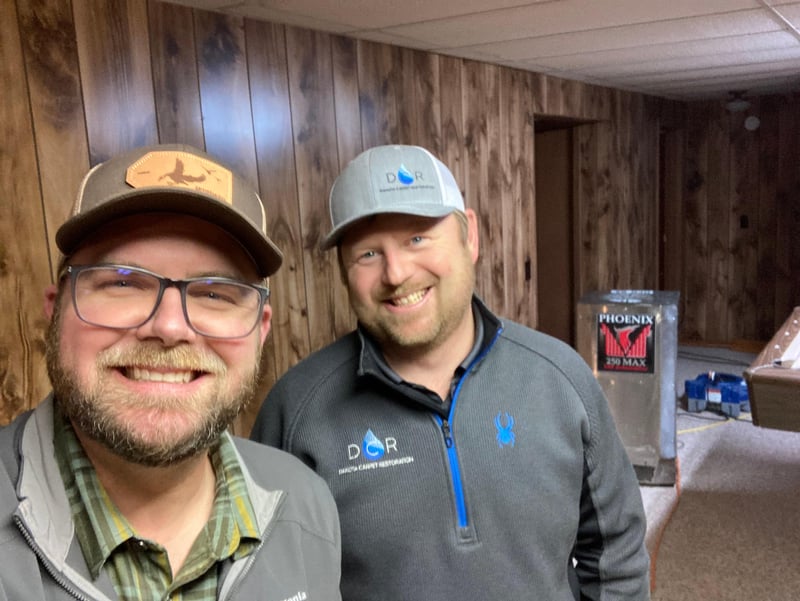 Gabe and his buddy from Dakota Carpet Restoration on the job in South Dakota.
Lesson 6: Have a Strict Game Plan for Responding to Storms and Emergency Events
Work surrounding Hurricane Season has been of central importance with the destruction caused by Hurricane Ian. VanDusseldorp knows how attractive these opportunities are, but cautions contractors to have a game plan in place to get paid to make sure that their business is in good shape.
"If you're going out for a hurricane you need to make sure that you know where everything that keeps you alive is coming from before you leave. Make sure you have an idea of where the work that you get is coming from; make sure that you know where you're going to get gas or diesel fuel; make sure you know where you're going to stay," VanDusseldorp says, noting that these are just a few of the considerations that contractors need to be mindful of.
There are also many other factors that you should plan for before taking on disaster restoration.
"Do you have power? Make sure you know who is paying the bill. I know way too many contractors who have lost their businesses because they thought the materially interested party was Jim where come to find out that Jim was not responsible for paying the bill, it was actually the insurance company. The insurance company has parameters on how where and when they are going to pay out that policy."
To avoid this, you want to work with homeowners that have coverage in place. You need to know who the insurance company is or who is going to pay.
Conclusion
You only need to spend a few minutes with Gabe VanDusseldorp to become infected with the passion that he has for his work. Gabe truly cares about his customers and the people that he serves. Whether it's a broken pipe that leaked water or a library with soggy books, Gabe's breadth of experience runs the gamut of all types of flood jobs. Despite this, he is humble about what he has accomplished, and his greatest hope for his career is to pass his experience on to the many restoration contractors that are always needed to step in when the next unexpected disaster strikes.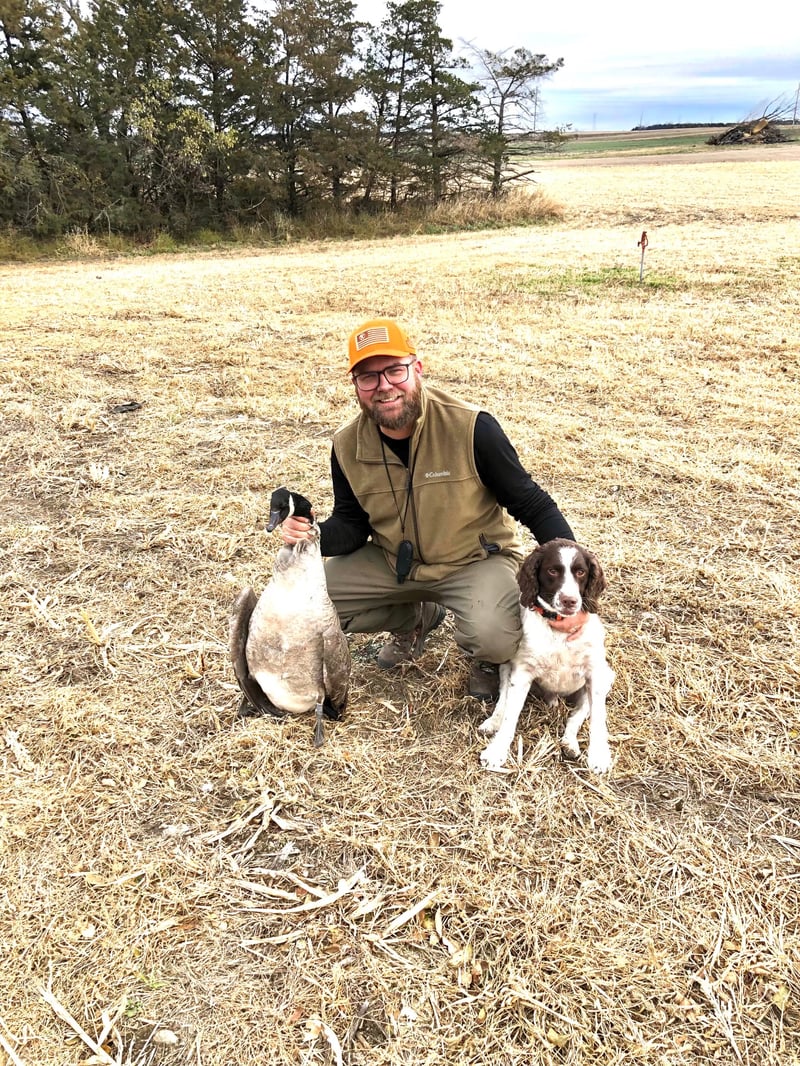 Gabe and his dog Dutch celebrate after a successful day of hunting.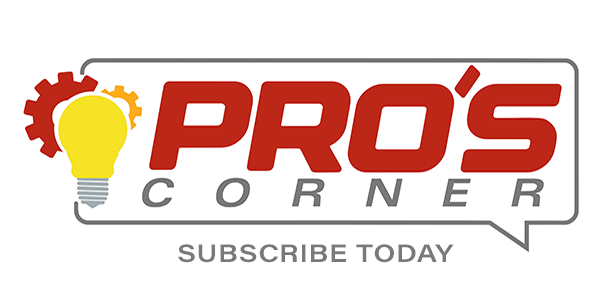 Enjoyed reading this post? Read the following articles: