"I've been in this industry for 10+ years. This is a no-brainer investment. We're seeing start-ups with no experience easily make $100,000+ their first year in business."
– Ryan Cash, RoofTec Product Manager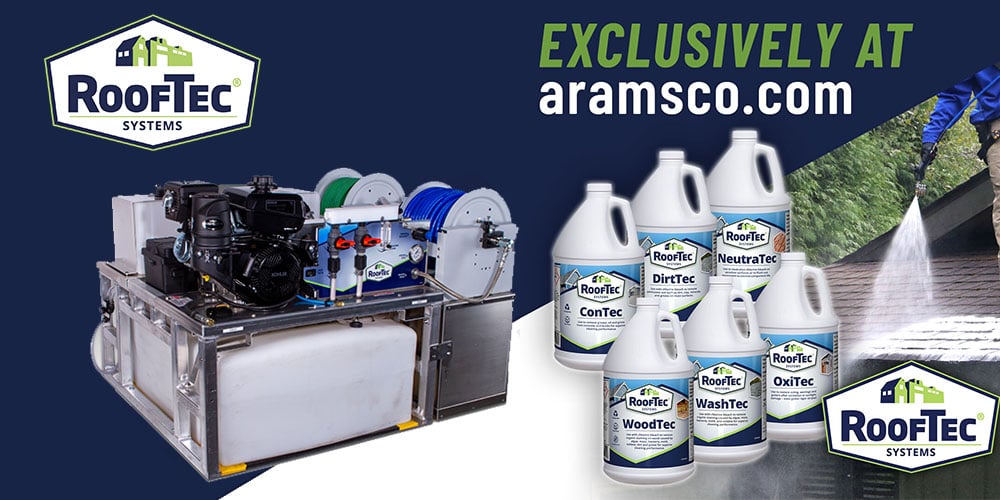 I spent some time with Ryan Cash, the Product Manager for the RoofTec® XCS 500 to learn more about Legend Brands' latest innovative product launch. The RoofTec XCS 500 opens up a new business opportunity for all types of contractors as a full-time business or an excellent side income to supplement other income streams. Contractors who focus on selling and marketing exterior cleaning are making as much as $240,000 per year in additional revenue with one soft wash system.
Let's dig in with a transcription of the conversation.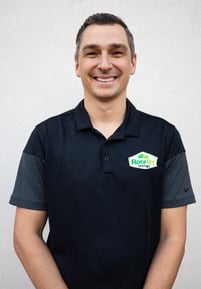 Jared: Let's start with a simple explanation of what the product is.
Ryan: The XCS 500 is a game-changing all-in-one exterior cleaning system. It allows a contractor to switch between low-pressure, chemical cleaning to high-pressure cleaning with the turn of a knob. It uses a one-of-a-kind stainless steel chemical pump to clean virtually any exterior surface of a home. Roofs, siding, wood, and concrete – this system can handle it all.
Jared: Why is "soft washing" vs. pressure washing important for roof cleaning?
Ryan: When cleaning a roof, the use of high pressure can take years off of the expected life of the roof. Not only that, but it can also void the warranty. Because of this, the Asphalt Roofing Manufacturers Association (ARMA) has set strict guidelines for the proper way to clean a shingle roof. Soft washing is absolutely the best way to clean a roof while maintaining its integrity.
Jared: Can you give me some history on RoofTec/Legend Brands and their experience with roof cleaning?
Ryan: Many of our customers may not know this, but Legend Brands has actually been manufacturing commercial roof cleaning equipment for over a decade. Our systems have been used to clean many large, high-profile jobs all around the country. This, combined with our proven record in the cleaning industry, made it a no-brainer decision to step into the residential exterior cleaning market as well.
Jared: I know you've personally provided this service to customers for years. Can you give some background on your experience with pressure washing?
Ryan: Sure thing. I got my start in the exterior cleaning industry over ten years ago. I started off like everyone else, I was fresh out of college and just looking for anything that would help pay the bills. I was hired by an exterior cleaning company and fell in love with the work. Roofs, gutters, siding, windows, driveways…I cleaned thousands of homes over the years. I was then hired by Legend Brands to help provide technical service for our commercial roof cleaning equipment. From there, it was a pretty natural crossover into helping develop the current RoofTec exterior cleaning system.
Jared: Why would a contractor choose this over some of the other services they could pick? Their time is limited, so what is the business opportunity?
Ryan: That's one of the things I think most contractors will be really excited to talk about. Exterior cleaning is, on average, two to three times more profitable than other services like carpet cleaning. A typical exterior cleaning contractor can easily average $200-$300 an hour for roof and siding cleaning. I know one of the most important commodities our customers have is time, so that's why it's so important for them to make it as profitable as possible.
Jared: What could an average contractor expect to make in year one? How about year three?
Ryan: Realistically, with some good marketing and leg work, a contractor can expect to gross $100,000 in their first year. Statistically, that's only doing one home a day, 15 days a month, for 8 months of the year. It's totally feasible. Then, I think, by year 3 as their business is growing and developing, it would be very reasonable for a contractor to bring in $250,000 annually.
Jared: What sort of training is required?
Ryan: That's another exciting thing about this system. The training is very minimal. There will always be things that need to be learned on the job, but with the purchase of the unit, contractors will get a full day of training where they learn the ins and outs of cleaning, pricing, and running the machine. We've been able to facilitate this training both through Zoom and in person.
Jared: What does the lead time look like on these machines?
Ryan: We've been working on this system diligently for the past few years. Because of this, we've been able to stay ahead of supply chain issues. So, we've got machines ready to go out the door today and parts to build out as many as we need for the foreseeable future.
The Opportunity
Millions of homeowners need exterior cleaning across the country. The market is huge and encompasses everything from removing algae from roofs to removing rust and oil stains from concrete. Some of this cleaning is cosmetic, while other cleaning is needed to prolong the life of the material, or in some cases, prevent insurance companies from voiding your warranty. Microorganisms cause roof shingles to curl and buckle, leading to water intrusion and wind damage. Some insurance companies won't pay claims and may even cancel policies if the roof hasn't been properly cleaned and maintained.
And the opportunity doesn't stop at homes. Commercial offices, hotels, restaurants, hospitals, and schools all need to keep their exterior surfaces looking clean. Customers will judge the "book by its cover" and if the building is dingy on the outside, they'll expect the inside to be the same.
And, importantly, since the market isn't saturated, it's not a race to the bottom for contractors when it comes time to price their services. You can't throw a stone now without hitting a carpet cleaning or restoration contractor. Look at any Value Pages or similar mailed marketing bundle and you see ads for these companies in every issue, while exterior cleaning, especially roof cleaning, is still a relatively untapped market.
If you're a carpet cleaning or restoration contractor, this allows you to offer another service to your pre-existing customers, with very little additional training. This creates a quicker path to profitability. Some soft pressure washers are making 4-5 times as much as they did cleaning carpet.

Services to Offer
Outdoor surfaces that can be cleaned:
Roofs: organic material: mildew, algae, moss, and mold
Outdoor Flooring: concrete, pavers, bricks
Siding: vinyl, aluminum, wood
Wood Cleaning: decks, support beams, pergolas, etc.
Siding, awnings, and gutters (oxidation removal)
What needs to be removed from these surfaces:
Algae
Moss
Lichen
Dirt
Debris
Soot/Fire Damage
Mineral staining (orange staining on buildings caused by iron in sprinklers)
"Phos-Chek" (fire retardant)
Grease and Oil Stains
The Process
The process is simple and straightforward, and only differs slightly based upon the surface being cleaned and/or material being removed. I'll break this down at a high level, by surface.
In-depth training is available at your local Aramsco store – this just highlights how easy the process is to learn.
An important reminder is that roofs require low-pressure cleaning (a "soft wash"), while other surfaces, like concrete, are okay to power wash. High-pressure washing of roofs will damage asphalt shingles.
Roofs
Wear appropriate PPE and safety equipment (e.g. respirator and fall protection).
Pre-soak all plants with fresh water. Apply NeutraTec (Bleach Neutralizer) to any delicate landscaping that may need an extra layer of protection.
Soft wash: Low pressure spray (100-500 PSI) with WashTec and Bleach (3%).
Rinse with water.

Post-cleaning, soak landscaping with water.
Neutralize plants or other areas sensitive to bleach solution with NeutraTec

.
Driveways/Patios: Concrete or Brick
Wear appropriate PPE and safety equipment (e.g. respirator and nitrile gloves).
Pre-soak all plants with fresh water.
FOR DIRT: High pressure wash (2,500 PSI) with DirtTec and Bleach (3%).
FOR OILS: High pressure wash (2,500 PSI) with ConTec (no bleach).
Rinse with water.
Neutralize plants or other areas sensitive to bleach solution with NeutraTec

.
Siding
Wear appropriate PPE and safety equipment (e.g. respirator and nitrile gloves).
Pre-soak all plants with fresh water.
Low pressure wash (500 PSI) with WashTec and Bleach (1%).
Rinse and post-soak surrounding vegetation with water.
Neutralize plants or other areas sensitive to bleach solution with NeutraTec

.
Wood (decks, pergolas, etc.)
Wear appropriate PPE and safety equipment (e.g. respirator and nitrile gloves).
Pre-soak all plants with fresh water.
High pressure wash (800 – 1,000 PSI) with WoodTec and Bleach (1%). Low pressure wash may also be appropriate depending on surface and desire to reduce overspray.
Light scrub, if needed.
Rinse with water.
Neutralize plants or other areas sensitive to bleach solution with NeutraTec

.
Oxidation Removal (gutters, awnings, outdoor aluminum surfaces)
Wear appropriate PPE and safety equipment (e.g. respirator and nitrile gloves).
Pre-soak all plants with fresh water.
Apply OxiTec to oxidation with the use of a backpack or pump-up sprayer. Don't use bleach.
Light scrub, if needed.
Rinse with water.
NOTE: We recommend a special, high-concentration bleach that can be purchased from local sources that specialize in handling it. This is currently not carried at Aramsco locations. Please contact your Aramsco Account Manager for a list of recommended locations that carry the appropriate bleach.
One major advantage of pressure washing/soft washing is that the work can be done outside, without the need for the homeowner to be present. This helps to alleviate stress and scheduling issues for both the contractor and homeowner.
The Machine
The RoofTec XCS 500 allows you to soft wash and high-pressure wash all with the same machine. A simple turn of the dial allows you to go from 100 PSI to 2,500 PSI.
RoofTec XCS 500 Machine

2-year warranty
14 HP Kohler engine
General Solution Pump: 5.5 GPM, 100 to 2,500 PSI

110 Gallon Bleach Tank
12 Gallon Surfactant Tank
12 Gallon Water Buffer Tank
100' ½" Water Supply Hose
200' 3/8" High Pressure Hose
Specially built to withstand bleach cleaning solutions
Stainless Steel Spray Gun
The Investment
How much does the RoofTec XCS 500 system cost?
The cost of the soft wash system can be found here on the soft wash machine product page. In addition to the machine, you'll also need a truck or van to put it in, and you'll need the appropriate cleaning solutions. Excluding the vehicle, you're looking at ~$15,000 to get started.
Financing
The XCS 500 can be financed through our preferred financing partner, Aztec Financial. Financing starts as low as $279/month for just the machine, depending on your credit score. Aztec Financial also sells trucks if you need one to carry your RoofTec machine in. They can also get your vehicle wrapped. Your local Aramsco store can install the machine and get you up and running.
Learn more about financing the XCS 500 here: Aztec Financial RoofTec XCS 500
Show Me the Money: Social Proof
If you've read this far, you're wondering if others have used the system and what their results have been. Here are a few of the many contractors who have experienced financial success from the Rooftec soft wash system.
Show Me the Money: Facts and Figures
The market is huge and growing, with a number of factors driving demand:
HOAs

HOAs often require that homes maintain a standard of exterior cleanliness, including removing algae from roofs and siding, and cleaning up oil spills in driveways.
351,000 HOAs in the US
8,000 new HOAs formed each year
61% of all new homes fall under an HOA
Nearly 30 million homes in an HOA

Insurance companies

Homeowner policies often require homeowners to maintain their roofs for them to be eligible for insurance.

Existing Home Sales

During the inspection process, roof status can be called out and required to be fixed before the house can be sold.

Warranty Cleaning

Some roof shingle warranties cover cleaning during a specified window.
REVENUE MODEL
Job billing is normally based on the square footage of the house:
Roof Washing: Charge $0.30 to $0.40 per square foot
Siding Washing: Charge $0.10 per square foot
Flatwork (Driveway Cleaning): Charge $0.20 per square foot
Annual Revenue
2,500 square feet is the national average for a house
Roof washing = $750 ($.30 x 2,500 sq. ft.)
Siding washing = $250 ($.10 x 2,500 sq. ft.)
Total = $1,000 per average house
2 jobs per day x 15 days per month x 8 months = $240,000 annual revenue.

Some contractors can work year-round if they live in warmer climates, but it becomes difficult/impossible when the temperature gets below 40°F, so 8 months was used as a conservative number.
I'm Ready to Learn More about the RoofTec XCS 500!
Drop us a line and we'll have one of our product experts reach out to you.