One pizza company used the effective branding statement, "Better Ingredients Makes Better Pizza". This statement holds true to making better cleaning solutions. Just like there are grades of cheese, pepperoni, sauce, etc., there are grades of raw materials used in making cleaning solutions.
The different grades of d'limonene are among the more obvious to the cleaner. Distillates, technical grade, and food-grade are distinguished by the consistency of the fragrance. The odor of a poor distillate will not easily be forgotten.
The amount of the ingredient used in any formula matters. However, we need to go beyond the quality and amount of the ingredient and also find special ingredients with core performance features that improve cleaning results. It is important to properly select ingredients that highlight a core feature that creates unique cleaning solutions and provides consistent results.
Each blog in this series will focus on a different feature brought about by a distinctive raw material based on performance and not cost. We will show pictures and/or short videos that visually illustrate performance from adding this raw material that by itself is uniquely responsible for that aspect of the result. The art of the formulator is in the selection of these quality, innovative raws with features that produce reliable results for each application.
It starts and ends with the science of cleaning….
SILICONE DEFOAMER
Silicone defoamers are built with emulsifiers that are created when silicone oil is dispersed in water and surfactant. They can be built-in water-based or powdered-based formulations. The silicone defoamer breaks through the liquid barrier that protects the air bubbles released throughout the extraction process. The low surface tension enables the consistent spread and penetration through the film barrier resulting in rapid foam collapse.
Other ingredients can control foam, but silicone emulsions are the least expensive way to efficiently deal with foam issues. They are not only efficient but are used at lower concentrations than non-silicone alternatives. Silicones are inert and meet most safety, health, and environmental regulations, especially when organic solvents would serve as an alternative. Silicones are not anti-foams, which limit foam build-up because you don't want to add to cleaning formulations. Silicones attack foam build-up resulting in quick dissipation with the right amount.
The following videos show how a silicone emulsion readily dissipates foam build-up.
"Place 1% solution of non-ionic surfactant in two sample bottles. Shake both bottles rigorously. Add the defoamer to one of the bottles. Watch the fast rate of foam dissipation."
The presence of silicone prevents foam build-up in hoses and waste tanks optimizing vacuum performance.
Featured Products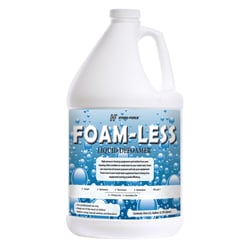 Hydro-Force, Liquid Defoamer Foamless, 1 Gallon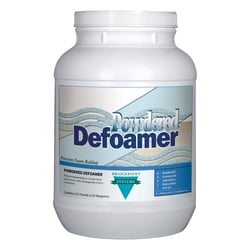 Bridgepoint Systems Powdered Defoamer, 6.5 lbs