Yesterday I went with a friend to a delicious restaurant, Thyme & Seasons. The restaurant sources all of its fish and meat from local farms around the world. Thymes & Seasons doesn't have a menu and instead allows diners to pick from whatever they have fresh that day. If they have Chilean fish, Halibut, or a fresh steak sourced from around the world, they will customize a delish meal for you. They also sell proprietary blends of spices to marinate your own meat at home.
While I was eating my delicious stir fry, rice, and gigantic juicy sirloin I asked my friend why she had wanted to come to Thyme & Seasons. She replied that she had read about it online and the reviews were good. I told her that I had heard of the restaurant from other people, but had never visited.
If it wasn't for the reviews, we would probably never have learned about Thyme & Seasons or chosen to eat there.
Reviews have always been a part of business
Reviews have been around since the beginning of recorded history. Merchants would recommend their neighbor through word-of-mouth to a local craftsman that was well-known to the community. These vendors were artisans of reputation. In a close-knit community, people would have known about the services they provided through word-of-mouth. The shared knowledge of their reputation created trust between a local residents and the craftspeople. If you needed your shoes fixed or clothing tailored, you would know who to visit.
Many years have passed, but human psychology hasn't changed. We still rely heavily on word of mouth. Marketing software company Semrush reports that "78% of people rave about their favorite recent experiences to people they know at least once per week," on their page about word-of-mouth marketing. People do this because they are much more likely to trust the positive experiences of a friend or loved one than an unfamiliar business.
Problems of scale and getting noticed
Basic psychology about why people choose us as their service provider hasn't changed; we still trust what those closest to us tell us. The only different about today's landscape is the technology we use and the countless number of businesses that provide similar services.
There isn't just one carpet cleaner, there are hundreds. With the internet at our disposal, many people can get overwhelmed by the number of choices they have to choose from. To solve this problem, they read the words of other people, and trust what their friends tell them.
This is why reviews are so important.
Making reviews accessible and prominent on Your Website
Think about the last time you bought something. If you went to a site where the first thing you were shown was the reviews, how did it make you feel?
Seeing the reviews probably made you feel a couple of things:
Real people are actually buying this

People cared enough about their experience to write about it

People liked the experience enough that they wanted to tell other people about it

This company is transparent by showing other people what they think about them
All of these thoughts run through your head in a split second, and they propel you deeper into the buyer journey.
There's a good reason why Amazon lists products on their website in a particular format. On every product page, right underneath the product description, you can see how many reviews the product has received, and what the average review is. Consider the lifting belt that I bought the other day, for example.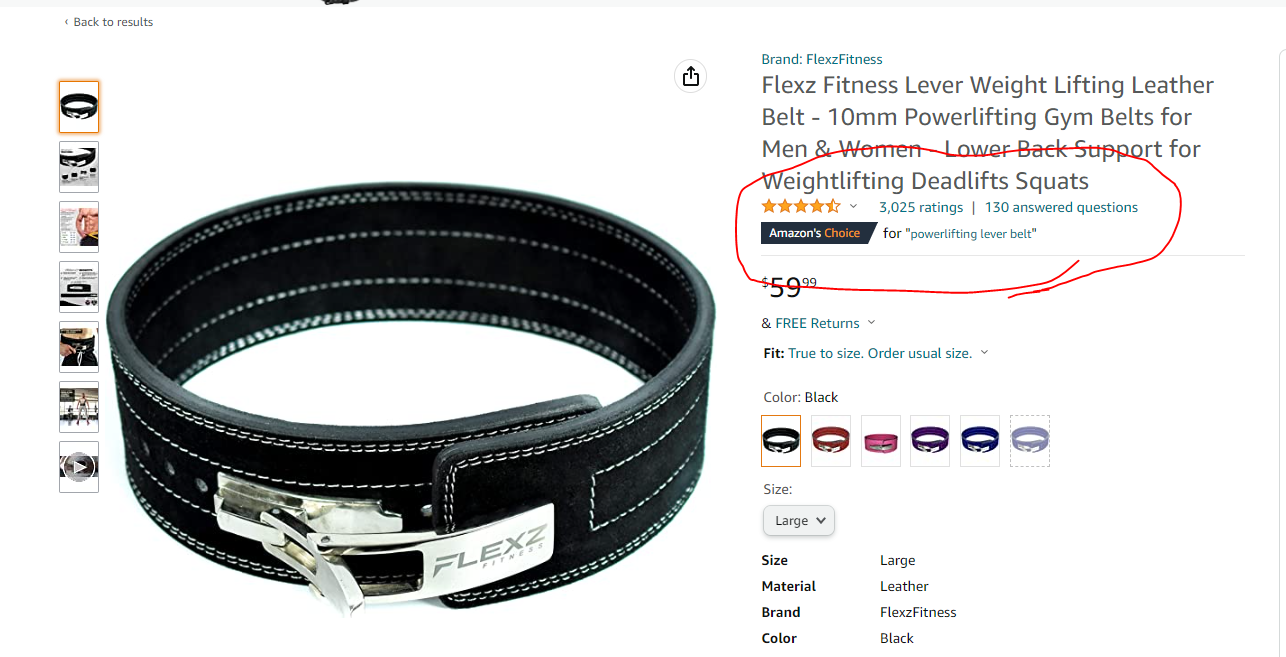 The aggregated review average beneath the product title instantly lets a customer know whether the product is popular, and what the average person is thinking about it. Through their simple yet effective way of communicating this information, Amazon makes a purchasing decision easy.
On the rest of the product page, you can read about the product (which many people do; you should always have a good description of your service complete with images on your own page), or you can be like many customers, and scroll to the bottom and just read the reviews.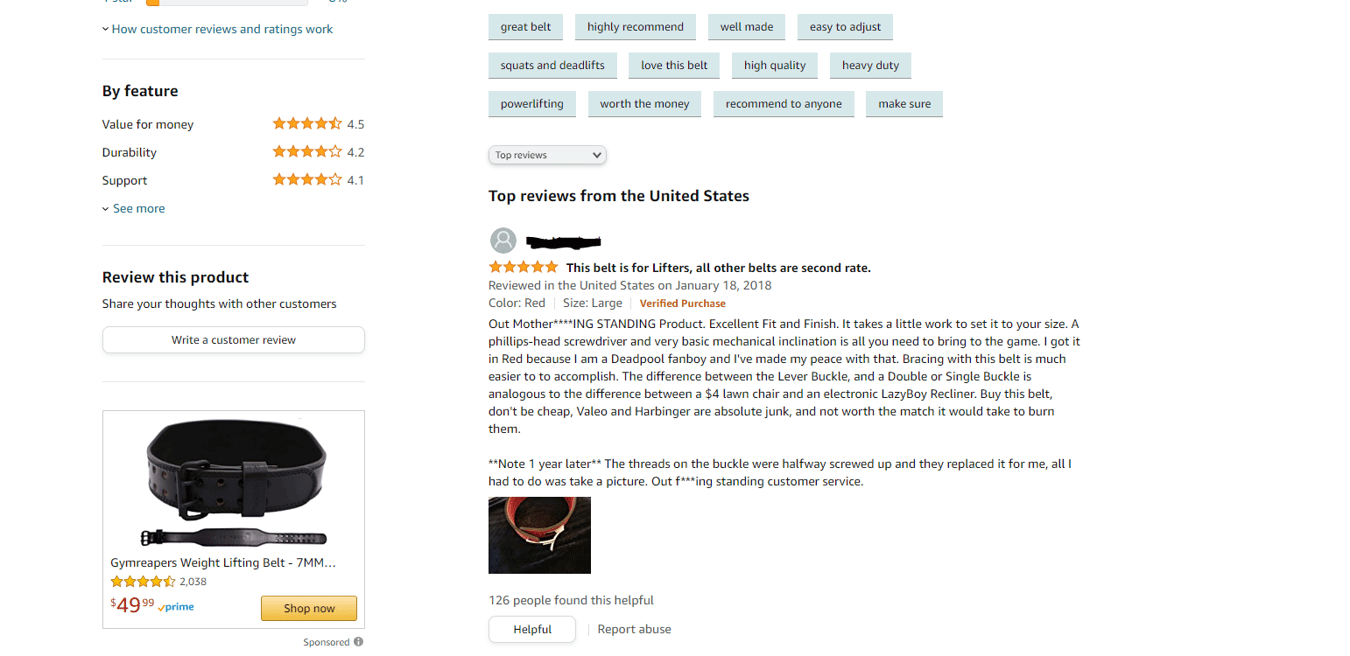 Because reviews are so important they should take center stage on your website. Like Amazon, you want to start off by providing your customers with an instant signal of trust. When customers visit your website, they should be able to see all of your reviews so they can read what people are saying about you.
Reviewer Tracker, an online reputation management company, put it well in a survey they commissioned, "As a foremost source of information, reviews are particularly useful at helping consumers discover new products and services through local search."
Reviews Cut Down on the Amount of Time that a Customer has to Do Research
Your customers aren't professional carpet cleaners. People are busy. Odds are that your customers don't know anything about the chemistry or equipment you use. They don't have time in their busy schedules to hunt down endless information about the processes you are using, or how your chemistry works. These are the things that we discuss, but they certainly aren't the things that your customers are talking about.
Customers want to talk about the experience that they have with your business, and they are doing it through reviews. Reviews make the decision to use your service easier for your customer. When customers read reviews they can easily figure out what your business stands for and the kind of work you do. This eliminates the need for them to do tedious research when they are trying to figure out which contractor to use.
Reviews are a journal of customer experiences
When people apply for a job, they write a resume detailing their past experiences and submit it to a prospective employer. A job resume typically includes references or letters of recommendation. These are used to show a potential employer that the information that you are providing is reliable and that other people can vouch for your work history.
Business reviews function in a similar way. Like a resume, they are a log of the experiences that you have provided your customers. If your reviews match the information that you are providing about your business on your website, your customers will know that you are trustworthy and that you will do what you say.
Reviews Come from Customers that Have "Skin in the Game"
On a similar note, nothing is more credible than reading a review from somebody that has spent money on a service. Every time that a customer buys something they spend their resources and take a leap of faith by trusting a stranger will do what they promised. Thus, it stands to reason that people that spend their hard-earned cash on your business always stand the most to lose, making their reviews more valuable than anything else that they could read about your service. This is why reviews might arguably be the most sincere form of marketing. This philosophy is discussed more in Nassim Taleb's book, "Skin in the Game" (Note that the book is fairly convoluted and even condescending, but I did like some of the points that he made about customer risk-taking).
Good Reviews mean That You Can Justify Charging Higher Prices
If you are worried about charging higher prices, don't be. Customers do the work of selling your services through good reviews, and prospective customers will be much more likely to shell out more money after reading these reviews. In fact, according to Review Tracker's study, over 50% of consumers often or always check out online reviews, while only 34% seek out information on discounts and pricing. This means, as illustrated by the search intentions in the study, that a majority of people are willing to pay more for a business with good reviews even if it comes at a premium cost. With good reviews, you can justify charging more.
Personalized responses to reviews
Oftentimes you will see companies respond to customer reviews by thanking them with a generic response. It's good that these companies respond to their reviews, but we work in an industry where you likely know most of your clients. It's a good idea to thank these customers with a personalized response and demonstrate that you are going the extra mile by thinking about them.
You can respond to their review with personalized details about what you enjoyed most about their house or a comment on how to provide follow-up maintenance to their carpet.
When a customer leaves a negative review, a different customer gets the chance to see how you respond to negativity. Are you short? Do you pay attention to what you are saying and are you good at listening? Customers use this information to screen whether you will care about their concerns if they hire you. Obviously, if you didn't do this for the reviewer, they will likely assume that you won't do it for them.
Leave Bad Reviews Up on Google or Your Website
It's human nature to recoil or get defensive whenever somebody says something bad about us. Bad reviews are important though because they hold us accountable and allow us to mend a customer relationship when we did something wrong. It's much easier (and more profitable) to retain a customer than to find a new one. Never delete a bad review. A bad review is a learning opportunity that you can use to show other customers that you are taking steps to make the situation right.
Surprisingly, customers trust reviews more that have an average of 4.0 out of 5 stars, than they trust an average of 5.0 stars because a less than perfect score shows transparency and authenticity.
The importance of Google Reviews in Small Business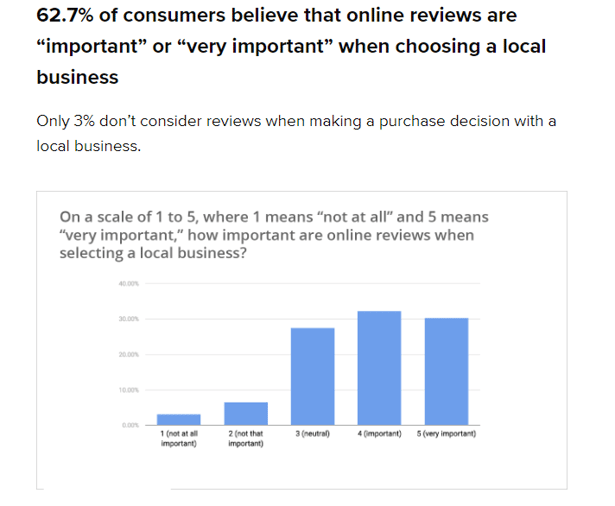 photo credit Social Media Today
As a small business, there is a chance that you might not have as large of a marketing budget as you wish. Fortunately, reviews cost next to nothing in most situations, and a Google My Business account is free to create. If you don't do anything else for your business, *at least* create a Google My Business account.
Google uses the reviews that customers provide for its search rankings algorithm, meaning that businesses with a higher average review will appear higher in searches.
Conclusion
All business activities are driven by real people, and people like to know what real people are saying. Business is always about providing customers with a good experience. If you aren't in the business of people, then you're not in business.
Reviews are a lynchpin of any local business's success. More potential customers will find you through reviews than they do from any other marketing activity. If you treat reviews like Thyme & Seasons did, you won't have a problem with repeat business.
I invite you to collect customer reviews and display them prominently on your website so that you can get more customers and cement your business prominently in the mind of your local community.