One pizza company used the effective branding statement, "Better Ingredients Makes Better Pizza". This statement holds true to making better cleaning solutions. Just like there are grades of cheese, pepperoni, sauce, etc., there are grades of raw materials used in making cleaning solutions.
The different grades of d'limonene are among the more obvious to the cleaner. Distillates, technical grade, and food grade are distinguished by the consistency of the fragrance. The odor of a poor distillate will not easily be forgotten.
The amount of the ingredient used in any formula matters. However, we need to go beyond the quality and amount of the ingredient and also find special ingredients with core performance features that improve cleaning results. It is important to properly select ingredients that highlight a core feature that creates unique cleaning solutions and provides consistent results.
Each blog in this series will focus on a different feature brought about by a distinctive raw material based on performance and not cost. We will show pictures and/or short videos that visually illustrate performance from adding this raw material that by itself is uniquely responsible for that aspect of the result. The art of the formulator is in the selection of quality, innovative raws with features that produce reliable results for each application.
It starts and ends with the science of cleaning.
Super Surfactant
Every so often we run across recently developed raw materials that capture our imagination. In 2015, we were introduced to a surfactant, which outperformed the cleaning properties of many common solvents over a broad range of soils. We immediately started calling it our "Super Surfactant". Anyone who has developed solvent spotters to comply with a 3% VOC limit understands the potential breakthrough of having a surfactant replace volatile solvents. It is also environmentally friendly and derived from natural plants.
Our first application was a water-based adhesive remover. Adhesive removers currently allow a much higher percentage of volatile solvents. Our primary formula is solvent-based and has a mixture of volatile and non-volatile solvents totaling around 90%. We developed our water-based adhesive remover with the super surfactant and 3% volatile solvent. This meets the allowable amount in a spotter based on low VOC regulations.
Both formulas are gelled, and even though the solvent-based has a small performance advantage, we also added the formula of the future. We currently use it in five formulations including an improved revised ink remover that had previously not been available in low VOC states.
We usually select surfactants before we choose solvents and builders. We do this because surfactants are typically greener, work at higher dilutions, and are not subject to regulatory restrictions (solvents are subject to a lot of regulations and builders are not always green and can be caustic to ship and handle).
The following video shows how the super surfactant breaks down inks and oils. Skip to 1:00 to watch the magic in action.
The "Super Surfactant" lives up to its name as it matches or surpasses the performance of common cleaning solvents.
Education beyond blogs
Carpet Cleaning Technician Aramsco/ Interlink Supply Training Schedule (cvent.com)
Tile & Grout Maintenance
Featured Products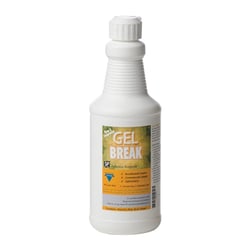 Bridgepoint Systems, Stain Remover, Gel Break Adhesive Remover, 1 Pint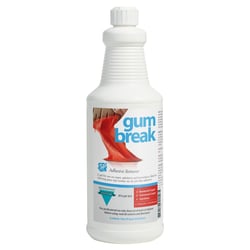 Bridgepoint Systems, Stain Remover, Gum Break Adhesive Remover, 1 Quart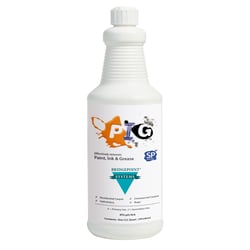 Bridgepoint Systems, Stain Remover, P.I.G. Paint, Ink, & Grease Remover, 1 Quart