Over the years, manufacturers and distributors of protectors have led seminars and other marketing focused on the performance of their product and even more on the profitability of applying protectors to every fiber cleaned. Emphasis was often on the benefit to the bottom line rather than the benefit to the carpet being cleaned and to the client.
When nylon and wool were the dominant carpet fibers, homeowners worried about kids (and adults) spilling colored beverages that would forever stain light-colored carpets. The huge popularity of Stainmaster™ fibers demonstrated that consumers wanted protection against staining. This protection did wear off and needed to be reapplied following cleaning.
Carpet cleaners also realized that carpets often "ugly-out" long before they should have due to dry soils that cut, scratched, and abraded fibers. Protectors that resisted dry soils and made vacuuming more effective significantly extended the useful life of the carpet and were of value.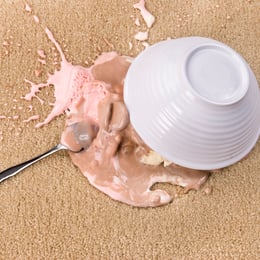 As polyester, olefin, and triexta replace nylon as the dominant fibers for residential carpets, is there still a need for a protector? These fibers are marketed as "spill-proof", "kid-proof" and practically bulletproof because they repel water and water-carried coloring agents. Will protector really help these carpets?
Every time we clean olefin, polyester, or triexta, we are reminded of a key characteristic of these fibers, they are oleophilic – THEY LOVE OIL! We work hard and take extra time to remove oxidized oils that may even have yellowed the fibers. Upholstery also is subjected to lots of oils.
What is the key point? The needs of each fiber differ! Polyester does not need a protector that keeps Kool-Aid® from staining. The old simple approach of carrying one protector for every fiber is not in the best interests of the client.
Resistance to abrasive dry soils is still needed. Protectors may also supply oil repellency, water repellency, and resistance to staining from acid dyes. Now you can select the best product for each carpet you clean by selecting a protector that meets the specific needs of the fiber.
Two fluorochemical protector types cover the bases for these diverse fibers: anionic with acid-dye resistors and cationic with repellency as its key performance feature. Both provide dry soil resistance.
The anionic protector with an acid dye resistor provides great stain resistance and some oil repellency at fiber level for nylon and wool. The most important performance feature of nylon and wool is stain resistance. Both nylon and wool have dye sites that easily accept stains. This protector has acid-dye resistors which fill up any open dye sites to limit staining. However, the presence of acid dye resistors limits water repellency and surface oil repellency.
The cationic provides good water repellency and excellent oil repellency for all fibers safe for water. Polyester, triexta, olefin, and synthetic blends of upholstery need to be protected against oil! These fibers love oil and are prone to bond with oil. The cationic protector limits this bonding making these fibers easier to keep clean. Water repellency is not necessary as these fibers will not stain from water-based spots.
In short, let the fiber pick your protector. Your customer and their soft surfaces will love you for it.
by Scott Warrington
Featured Products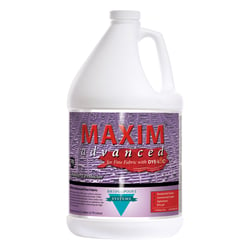 Bridgepoint Systems Upholstery Cleaning Maxim Advanced for Upholstery Protector with Dye-Loc, 1 Gallon
Bridgepoint Systems Carpet Protector Maxim Advanced, 1 Gallon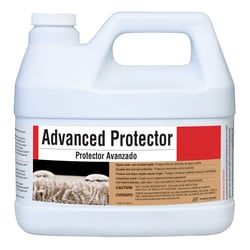 Hydro-Force Carpet Protector Advanced Protector, 1 Gallon