In surface preparation, many steps are required to get optimal results. One of those is the use of floor scrapers. A floor scraper is important to remove unwanted flooring, epoxies, glues, and many other materials. In a lot of cases, the end result is polished concrete.
First, we need to get the surface ready for that process, and floor scrapers are the perfect tool to do this.
A floor scraper can be as simple as a razor blade attached to a rod. In most cases and for commercial use they come in walk-behind, and ride-on options. These mechanical scrapers are essential for quick surface removal. In this article, we will discuss power options, sizes, and blades to choose from.
Walk-Behind or Ride-On options

Your Jobsite is an important factor when it comes to deciding whether a walk-behind option vs a ride-on option is right. Things to consider are job site size, location, and the material being removed.
Ride-On Scrapers: these are the powerhouse of scrapers; If large job sites are common in your line of work they are a no-brainer. A ride-on scraper can scrape up to 4000 sq. ft. per hour. They also weigh the most. When it comes to a pushing game, the weight will really help remove some surfaces.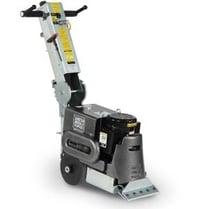 Walk-Behind Scrapers: these are going to be much smaller, but there is an advantage: a walk-behind can get into smaller spaces a ride-on simply cannot. Walk-Behind Scrapers are typically powered by a plugged-in cable giving them unlimited runtimes. On average, a walk-behind can remove about 500 sq. ft. per hour.
Power Options
Propane Powered: these machines come with the convenience of not having to worry about stopping for all-day work. Due to propane providing a good amount of power, these machines typically offer more power. You can complete jobs more quickly and efficiently compared to the battery-powered options.
Although those sound like the ultimate win, they have drawbacks. A propane scraper will have fumes and create more noise; they cannot be used in a smaller enclosed space because of this. If people are working around the job site, you may want to rethink using a propane scraper.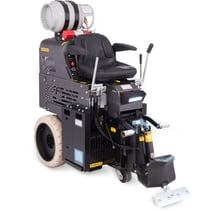 Battey Powered: These are powerful electric floor scrapers, yet quiet machines, making these perfect for office, residential, or commercial settings without disrupting those around you. In addition, you don't need to worry about buying fuel to power them. This will in turn reduce operating costs but will require recharging for large spaces, cutting into completion time.
Plug-in electric: Electric Floor Scrapers are going to most likely be your walk-behind scrapers. Great for consistent power but limited to outlets and cable length.
Choosing the Right Blade

When it comes to different surfaces you need to make sure to get the right blade. Failing to do this can result in damage to a floor or prematurely ruining your blades. Here are some of the common blades you will use when floor scraping.
Heavy Duty Blade: designed to work on VCT. VAT, wood, tile, lighter ceramic, re-scraping thin-set, all carpets, cork, elastomeric coatings, and re-scraping rubber and urethane coatings.
Angle Shanks: are great for ceramic removal and thin-set re-scraping.
Straight Shank: designed for removal of hard goods, thick epoxy, and elastomeric.
Wood Shanks: designed for removal of hardwood floors.
Self-Scoring Blades: designed for unitary or secondary backing, vinyl back, soft to medium PVC, linoleum, carpet tiles, soft cork, enhancer, and unibond hot melts.
Razor Blades: designed for thick epoxies, thin mil coatings, elastomeric coatings, and hard-to-remove adhesives.
Standard Blades: designed for carpet, soft goods, and vinyl flooring.
Weight, Speed, and Torque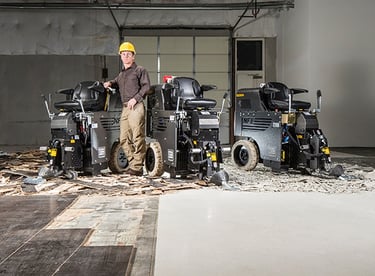 When it comes to these powerful machines weight, speed, and torque are important to get right. Weight is important because when it comes to scraping something you need to be heavy enough to get the power down to the surface. Nobody wants to be in a pushing match with someone that weighs more than them. Sometimes the flooring is exceptionally stuck and weight along with power will be just what is needed.
Speed and torque are also important parts of a machine. Speed is important to get the job done in a timely manner. Torque is important to combine weight and speed and use the power to scrape up the floor.
Another feature of speed is variable vs single-speed machines. Often machines are single-speed machines. This makes it difficult to adapt your machine to the needed speed to get the job done. With a variable-speed machine, you have the option to put more power down to remove materials that need an extra push.
Enjoyed reading this post? Read the following articles: