"You can always make more money. You can't make more time. Use your time as an owner doing the most impactful tasks that only you can do. Hire out everything else."
– every business consultant ever.
I interviewed some of the most successful business owners in the cleaning and restoration industries to create a list of ideas that you can use to grow your business, TODAY.
ALL OF THESE BUSINESS IDEAS HAVE BEEN VETTED OUT BY SUCCESSFUL BUSINESSES.
If I couldn't find a company using the idea to build a very successful business, I cut it.
The list represents a mix of ideas: implement some in as quickly as 15 minutes, with no cost, while others might take months and thousands of dollars to roll out.
NO COMPANY WILL BE GREAT AT ALL OF THESE.
I could nitpick virtually every company out there, including ours and even behemoths such as Home Depot, and find something wrong with their marketing. Perhaps their SEO is lacking due to interesting content, maybe they don't produce frequent, engaging videos, or perhaps their final touch, the customer service or service tech interaction is lackluster.
Pick the 1 to 3 things you are good at and master those. Become so good at them that you own that method/channel in your market.
I know one professional carpet cleaner that went from living on the street with no money in the bank to owning multiple vans and earning hundreds of thousands in revenue just by using Facebook for a few years. Just. Facebook. And his advertising budget was minimal. If you have something similar that you're really good at, double down on that!
Let's dive into this and grow your business!
Have other ideas or suggestions? Add them in the comments below.
1.
Provide "Share-It"Service and Leave a Lasting Impression!!
This is a no brainer, but it still needs to be said. It's sad when the simple tasks are the ones that stall your business growth. When you get a job, your marketing isn't over. It just started! The entire experience needs to be thought out so every interaction with your customer leaves the impression that you are a professional and they made the right choice!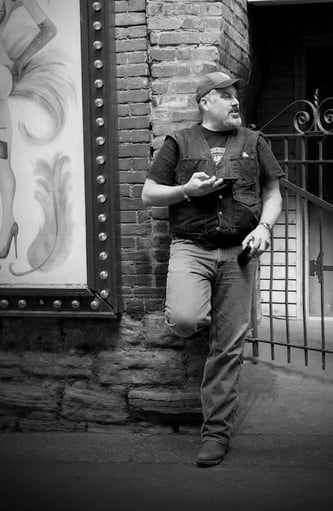 Mike Pailliotet, the owner of the popular cleaning forum Mikey's Board and of Connoisseur Carpet Cleaning, has distilled years of experience (30+) into some key points:
Dress the Part. Wear clean clothes, ideally with your company brand. Make sure you smell good (not overpowering) and look trustworthy. You are often cleaning in empty houses or when a man is not in the house. If you don't appear safe and professional, no amount of sales or marketing skills will save you. This is non-negotiable.
Your van should be as clean as you. When you open the door food wrappers shouldn't spill out. Your van should be branded and be clean inside and out.
Arrive on Time. So many contractors fail at this. People are busy. They have to pick kids up at school, make dentist appointments, go to work, etc. Their life doesn't revolve around you and this job. Your life should revolve around this job. Be prompt. Call ahead and let them know you're on your way.
Make a connection as soon as possible. First appearances are critical. Shake hands when you feel it's appropriate, with women it's often not. Hope and pray that their dog loves you, if it freaks out, you better have a witty reason. If other family members are in the adjoining rooms, greet them as well, make eye contact and smile. Before addressing the cleaning project, bring up something about their home, the neighborhood or neighbors, or an obvious passion of theirs. Spend a few minutes on that if they bite.
Don't repeat previous mistakes. When the project tour begins let them lead the walk through and do most of the talking. At some point find out how the items were cleaned last and was there any reason why the last cleaner was not called back. Don't repeat that reason...
Be helpful. During the cleaning process take mental notes of things you can help fix/clean (or give a referral to someone else to fix). Pass this on to the homeowner near the end of the job. Offer care sheets or blog links to helpful tips to help extend the life of what you're working on; e.g. "that new 400 feet of LVP in the living room." Mention that you are deep cleaning lots of that stuff these days.
Keep them updated. Take a few opportunities during the job to visit with the homeowner again and update them on the progress/results, make comments on something that you see you have in common or very casually mention one of those items needing attention but leave them hanging, don't go for the sale.
Be happy! Whistle while you work. Never act rushed or show any negative emotions, no matter how hard your day is.
Be aware of your surroundings. Don't swear or say anything inappropriate. Don't dive into a political discussion. Take and make phone calls out in your van if at all possible.
Compliment them. A mention or two of a family member or pet goes a long way towards making you welcome in a customer's home.
Ask for a referral or review. During the payment process let them know that you always have time to take care of their family and friends and would love their recommendation or online review. If the review mention lights up their eyes, do everything in your power that doesn't involve begging or bribery to get them to leave it RIGHT THEN AND THERE.
If you've done the above correctly, you should have instilled a level of trust so they feel comfortable NOT being home the next time they schedule an appointment. That is the true measure of success.
2.
Call Previous Customers, Friends, and Family
If times are slow, this is the quickest and cheapest way to get business. If you've done your job and made a lasting impression, you should have a portfolio of customers you can call on during rough times. Many people are more than happy to help someone out if that person helped them at one time. This Law of Reciprocity is a powerful driver of human actions.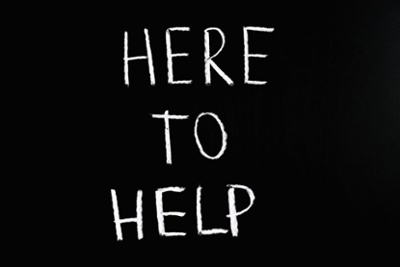 Keller Williams is one of the largest real estate companies in the world. They have over 190,000 associates and 1,000+ offices. They built an empire perfecting their employee referral program. All new agents (including myself in a previous life) spend their first month thinking about their own personal network and how to reach out to them and work with them in a way that isn't overly pushy and benefits everyone who participates.
Many of us are hesitant to reach out to friends and family. That's because many approach this in a way where the seller clearly benefits (a sale), but the referrer potentially loses (reputation or time).
There can be no losers when doing personal outreach.
These are people who you've cultivated close ties with over the years and it's not worth straining relationships over a few business deals.
The people I know who are good at this do one thing really well… They give more than they receive.
They are the ones who are the first to congratulate you on a job well done, the first to help you move, the first to give you feedback when you ask for it, the first to give you referrals when you ask for them.
We all know who these people are. We can always count on them.
Become that person for others and they won't hesitate to return the favor. A business is built on community, and a community thrives when everyone work together.
3.
Do a Free Demo of Your Service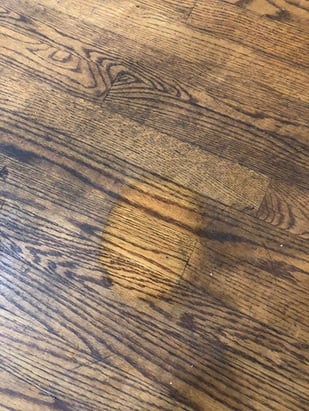 This can be done to either 1) sell a new job, or 2) upsell an existing job.
1) For a new job, use whatever preferred advertising method you have. Offer to clean a room, or a section of bathroom, for free. If they like your service, they can book you then. If they're not satisfied, you'll pack up without any questions asked or trying to hard sell them. This last part is critical. If you are pushy, this will backfire. If you are polite and do a good job, you will book 9 out of 10 jobs.
No one is going to bother having you come out unless they're serious. Use this to create an offer so irresistible no one in their right mind could say "no".
2) For existing jobs, do a demo on a surface you weren't hired to clean. E.g., let's say you're there cleaning carpets and you see the customer has a wood floor that is in need of cleaning. Show them what you can do and ask if they're interested in having you performing an additional service. To make it harder to resist, give them a 10% discount since you will save on transportation costs if you don't have to come back.
Below is an image provided by Matt Mueller from All Star Carpet Care. He uses this technique to provide proof and gain customers' trust in his ability to deliver spectacular results.
4.
Gamify it and Make it a Team Activity
Turn customer prospecting into a game and team activity! Ask your employees for referrals and leads and create a commission/bonus plan for each lead they provide. Make a competition out of it with a team party at the end and a special award for the top employee.
Keep track of how everyone is doing in a public place: sign at work, Google Sheets, etc.
This has the advantage of not only getting you additional business, but it benefits your employees and improves team culture.
5.
Create a Google Business Profile Page
If you own a business, you've received hundreds of solicitations from "SEO" experts. While they claim to be an expert, many are often difficult to find on Google, and sometimes don't even have a website!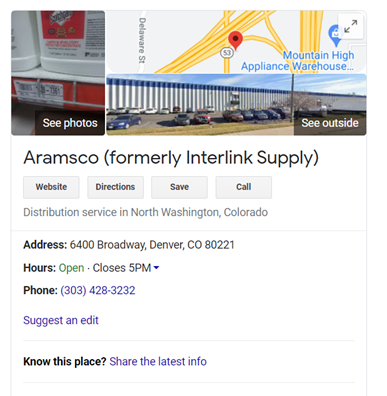 While I'm an advocate of hiring professionals, this is one of those tasks that you can easily do yourself. A Google Business page is great for local SEO and will take less than an hour.
This tutorial from Google will walk you through the process. It's free and comes with major benefits:
Get added to Google Maps. This makes it so customers can easily find your location, call your phone number, and more.
Have a profile page added to Google. See the profile page for our Aramsco location in Denver, to the right. This is essentially a giant ad for your business that pops up when they use search keywords related to your business, like "Denver Carpet Cleaning Company".
Increase your website's search engine ranking. A Google Business profile is a great way to bump yourself up a few pages from your existing ranking. Higher rankings mean more customer leads!


6.
Direct Mail (e.g. Local Value Pages Mailer)
Print is dead!!! This was the line of every marketer in the early stages of the Google and digital marketing explosion. And they were right. For a year or two. And then everyone's inbox, social feeds, and search results became filled with even more spam than their old street mailbox. The extremely low-cost and ease of creating a digital ad led to consumers being exposed to as many as several thousand ads a day as they surfed their social feeds, searched on Google, ordered on Amazon, and watched YouTube.

This actually made print ads a "stickier" form of advertising because there was 1) less of it, 2) it was tactile, and 3) was often local and more relevant.
According to Harvard Business Review, a large-scale study of ads on eBay and Facebook found that brand search ad effectiveness was overestimated by as much as 4,100%! The author goes on to explain that a fundamental problem with many digital ads is they reach customers who were already going to buy your service. The trick is to tease out new customers, not existing ones.
Combine the above with the fact that many older consumers aren't as plugged into the internet as younger consumers, and often have higher purchasing power, and you can see why a contractor can sometimes do better with print ads than digital ads.
This assumes that you have a good design and compelling value proposition…
To wrap this point up, a pillar you can build your marketing around is a simple statement "Be Where Others Aren't". You'll have less competition, more eyeballs, and be more memorable.
7.
Email Campaign Funnel
Take any marketing activity that can get you an email address and start a campaign. The campaign should follow an email sequence similar to this and each email should be spaced a day or two apart.
Welcome email and share something interesting and personal
Informative email. Links to resources.
Offer email. Limited time discount.
Informative email.
Offer email. If the customer hasn't purchased at this time, plug them into your monthly marketing emails.
Our previous articles on target marketing do a deeper dive on the importance of good target marketing and how to build an effective email campaign.
If you've spent any time listening to marketing experts on podcasts they all agree that email is critical for growing a business.
It's cheap to run
It has a high conversion rate
You can get same-day results
And YOU own the list. You don't own much on Facebook, YouTube, or other channels. Changes in their algorithm can really hurt your business.
8.
Google Adwords
This is one area where I highly recommend hiring a professional. Adwords is complex to get going, and if you don't know what you're doing, difficult to get a positive ROI. Here is a list of Google Certified Partners. You can hire professionals to manage your Google Analytics, Adwords, Shopping, and other platforms.
9.
SEO: homepage content & blog
While nearly everyone has heard of Search Engine Optimization (SEO), how it's done is still a mystery for many small businesses.
SEO, in a nutshell, is a search engine's ability to 1) find your website, and 2) rank it according to competitive sites.
Search engines use a proprietary algorithm to determine how high to rank your site. The higher the ranking, the more traffic you'll get.
According to Moz, a top SEO company, the first page search results on Google capture anywhere between 71-92% of all traffic. And of the first page results, 67% of traffic goes to just the first five results. So, if you're on the second page, you're not even a close second.
You'll 10x-100x your results if you can get one of the first five spots.
Robert Allen III is an owner at TruckMountForums.com and their SEO Guru. TMF, as they're widely known, is one of the most trafficked sites in the cleaning industry and Robert helped get them to where they are now. He provides some information on how to get to the first page on Google.
Internal links are critical. When creating a link on your website link out to large companies that are related to what you do; e.g. link to Shaw Industries and reference how you follow their guidelines for cleaning their vinyl flooring.
Add tags to social media posts and to your blog articles.
Post on every social network and forum possible. If you don't own the group or forum, be considerate of their spam rules.
Add a video wherever possible. Customers love videos, and Google does now, as well.
Get backlinks from sites with high domain authority.
Use tools like Ahrefs or SEM Rush to see if you have any content ranking on page 2. Focus on these as the difference between a first- and second-page ranking is huge!
Here are some core things you need to do to boost your SEO.
Content – content is KING! And QUEEN, too! You'll hear this a lot because it's true. Good content is what matters most to your customers, and so it's what matters most to Google. Long gone are the days where you can benefit from keyword stuffing and writing lame copy designed for search engines. If you aren't writing something you would actually read, don't write it.
Backlinks – Backlinks are hyperlinks you place on other websites that point to your website. Reach out to customers, vendors, local news organizations, etc. to see if you can add value, like writing an article, to get hyperlinks on their site that point to your website. This is a major ranking factor for Google as it is difficult to get these. It is a signal search engines use to show that you are a domain expert on that particular topic.

A backlink example is shown in the Pro's Corner article below. The text highlighted blue is a hyperlink to a Wall Street Journal article. When sites link to the WSJ's article, it strengthens their credibility for that topic in Google's algorithm.
Title Tags & Meta Description – Title tags and a meta description are what your customer sees when they search for something on a search engine. In the image below, I searched for "Aramsco" on Google and it displays the URL, the Title Tag, and below that, the meta description. This lets users know what to expect when they click on the search result. In this case, they were looking for our company, Aramsco, and the results clearly show they will be sent to Aramsco's website.

Try and match the customer's expectation with your search results by using appropriate title tags and meta descriptions.
Mention the services you offer and your location in your title tag and meta description, as well as having it on the home page of your website. Here's an example:
Title Tag: "Salt Lake City's Highest Rated Carpet Cleaning Company"
Meta Description: "We're proud to have the highest Google rating for Salt Lake City Carpet Cleaners. Read our testimonials and service offerings to find out why over 1,000+ customers give us a 5 star rating"
Each webpage can have a unique title tag and meta description.
Site speed – This article from Moz underscores the importance of site speed to your ranking. Make sure your site is fast or you'll scare away users and Google. Here is a free tool to measure your site speed. You can help your site speed by using images optimized for speed. Other tricks will often require a programmer.
Navigation (site layout) – This one is a little broad, and can be technical, so have your programmer work through these. How are your menus laid out? How does a customer get around? Is it easy to find stuff? This is important for both Google and customers. Try to reduce the number of clicks and make sure everything is connected in a logical manner. Amazon obsesses over minimizing clicks and does a great job of making it easy to find items on a site that sells over 12 million products. Submit a site map to Google to make it easier for it to find all the links on your site.
10.
Social Media: LinkedIn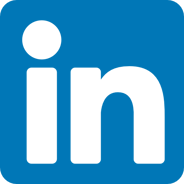 LinkedIn has traditionally been used for building a professional network and conversations were strictly limited to business conversations,
often with an emphasis on recruitment. That has changed, and LinkedIn is now much more social and topics are broad ranging. It still leans towards B2B business, but B2C has some presence. The best use of this currently is to not connect directly with the homeowners needing your service, but gatekeepers who could refer your work to homeowners. Examples include real estate agents, property managers, insurance agents, and owners of local businesses.
It is also a good place to connect with industry peers and vendors. When they can't help a customer, they might use this channel to refer business to you.
11.
Social Media: Facebook
John Williams, the owner of the marketing agency, Ads Grow Business, passed on some incredibly valuable tips based on his years of experience working exclusively with hundreds of cleaning contractors.
While other agencies have a broad focus, John and his team are laser-focused on mastering Facebook for customer acquisition. And, they've really dialed it in.
They're able to get as much as $30k in bookings a month for a company with as little spend as $1,700!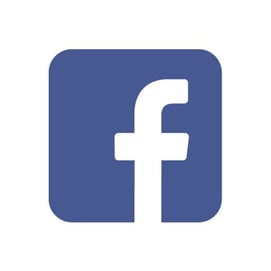 One cleaner John works with was able to grow his business to $25,000/month, ultimately sell it for $750,000, and retire to his dream home on a beach. He did this using Facebook as their primary advertising channel!
John wisely says, "Do what you're best at. Don't spend your time trying to master Facebook marketing. Partner with a pro."
You'd never call a digital marketer and ask them to clean your carpets. No one is going to call a professional cleaner and ask them to manage their Facebook campaign. Scale your efforts by hiring out what makes sense.
In addition to Facebook, John's team utilizes SMS and email to ramp up business quickly. Often, clients will have paid for a year of the program within the first month. Learn more at www.a-g-b.co, their YouTube channel, and connect with him on Facebook.
12.
Social Media: Instagram
According to the Pew Research Center… wait for it… nearly everyone uses social media. Meh, no one's surprised by that, but what should guide your social media spend and time is the type of customer you want to connect with.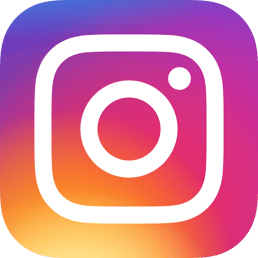 Our Target Marketing articles talk more about this, but targeting is essential to the development of your value proposition, your advertising, and the channels you use.
Instagram users are predominantly younger (<40). This is a really good channel for visual storytelling. So, for example, you could put your before and after cleaning pictures here.
Social media demographics differ mostly by age group with usage broken out as follows:
18-29: 84%
30-49: 81%
50-64: 73%
65+: 45%
Most people intuitively know that younger users tend to use social media more, so what's more interesting is the platform that different age groups gravitate towards.
Highest usage of platforms by age:
18-29: YouTube 95%; Instagram 71%; SnapChat 65%; TikTok, 48%
30-49: YouTube 91%; Facebook 77%
50-64: YouTube 83%; Facebook 73%
65+: Facebook 50%; YouTube 49%
Overall, if you had to focus on just a few channels, YouTube and Facebook are the most popular platforms and are probably the best place to start. YouTube has the highest percentage of people using the platform, but Facebook has the highest frequency (how often they check it per day) of any platform.
13.
Social Media: YouTube
The above facts highlight the importance of YouTube as a lead source. YouTube video format generally follows one of two paths: 1) High quality and expensive videos geared towards elevating the value of a product or service, 2) Low quality and inexpensive videos geared towards getting a following through consistent posting.
High quality and infrequent videos

These are the videos that are often used to promote the launch of a product or service. They are expensive and time-consuming to create. You'll want to higher a professional since the quality of these videos will reflect the quality of your service.

Low quality, frequent videos

You can't hire a professional (unless you're one) for every video, so don't be afraid to use your phone to create videos of the amazing results you have achieved at customers' homes. You'll need to get permission to use their house in your videos, and don't share customers' personal information if you do.
You can also provide simple how-to tips for homeowners. This will show them you know what you're talking about and help you get your brand and company's foot in their mental door. OK, that sounds off, but you know what I mean.
14.
Build a Network and Become a Contributing Community Member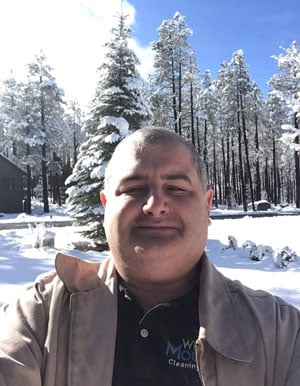 Michael "Zachery" Kersnowski, the owner of White Mountain Cleaning Systems and creator of the Facebook group Residential Carpet Cleaners, Educated Textile Cleaning Professionals has built a successful carpet cleaning company using networking and community contribution as his primary growth driver.
Michael says building a relationship can be as simple as buying coffee, lunch, or something similar for those where partnerships make sense for both groups. One group he's had success with are real estate agents. He is often working in empty homes where a high level of trust is needed. His face-to-face networking helps him develop trust that he couldn't get through digital ads.
Michael has mastered the soft sell—rather than going in with a hard sell, he delivers flowers, coffee, or something similar and provides gentle reminders that these gifts were provided by his company. He's found that building these connections is a great way to not only get new business, but to avoid constantly winning business based off discounts. He also heavily emphasizes education in his market, so his customers know that they are getting the best work possible and they are willing to pay for his expertise.
Michael also adds a family flair to his business. His 14 year old son, Timothy, follows in his dad's footsteps and is learning the ropes. Michael proudly displays photos of his son helping him. His son also travels to education seminars to improve his skills. The community loves the family aspect, and they also know Michael and his family take pride in their work as they frequently share their experiences on social media.
Regarding contributing to the community, Michael loves to give back to the community that has supported his business over the years. He often provides free cleaning to the elderly and infirm, and he cleans medical group homes. They also gave away 54 food boxes and did a summer food drive, last year. During COVID, he was able to procure N95 and surgical masks and give these away to healthcare professionals and others in dire need of protection during a time when these were hard to come by.
His focus on people, not profit, has proven to be a better driver of success for him than paid advertising.
Michael also stresses the importance of being willing to learn new things and not get stuck in old habits.
Small and nimble start-ups don't seem like a threat to established businesses, until it's too late for the established business to respond and they wake up one morning realizing they've become irrelevant (Blockbuster, anyone?).
15.
Start a review campaign
Remember the old adage, "Location, location, location"? This was used in reference to the importance of being in the right location to the value of real estate, or a business location. Now, however, almost all business starts online, not by someone driving down main street looking for companies.
So, what does location have to do with reviews? A lot.
Reviews are a primary factor in Google and other search engines' placement of your website. In other words, if you want to get your business on virtual "main street" you need to be on page one of Google. Reviews are a powerful way to do that.
In addition to helping you get found reviews are critical to your ability to CONVERT. Most companies in our industries are small businesses without a well-known brand. That means potential customers don't know you from Adam.
It's a scary thing to let a contractor you don't know into your home—often when it's just the wife and kids home, or maybe no one at all. TRUST IS KEY.
If possible, include images of real customers (ask for permission) so it's harder to fake. While it makes it harder for the rest of us honest folks, unscrupulous companies will often post fake reviews, so you need to think about how to overcome that concern in readers' minds.
It can be a lot of work, but I personally know of a local company that dominates Google primarily because of their superior review strategy. It works.
The Review Plan
Pick one platform you want to master. The major ones are Google, Facebook, and Yelp.
Make it as simple as possible to gather reviews. Use an app like Podium or Birdeye to make the collection and management of the program easier. Don't make it a chore for customers to leave a review.
Brainstorm ideas on how to get reviews. Some thoughts:
Ask previous customers. There will be customer experiences that stand out in your mind where you and the customer know you went above and beyond. Don't be afraid to reach out to these customers and ask for a review. Expect to send 2-3 follow-up reminders if they agree to do this.
Offer a free service in exchange for a review. While you're on-site, tell the homeowner how valuable reviews are to your business. Let them know that you're doing a big review campaign and to thank people for their time, you'll clean the stairs, bathroom, seal tile, etc. if they would be willing to give you a review while you're there. The last part is critical. The review must be given while you're there. Most people are happy to help and say they'll give a review, but they'll forget, so get them to do it then.
Provide "share-it service". This is a repeat of a point above, but do something that is memorable. Bring a wrapped treat for the kids. Have a gift box with a "thank you" letter sent to the home after your work is done. Provide a Home Pro Spotter for free with your contact information.
16.
Mix & Match the ideas above.
Obviously, none of the ideas above are mutually exclusive. The magic really happens when you create a business plan that mixes and matches the above in a way where they overlap and strengthen each other. Think of approaching it as a Venn Diagram.
Let's walk through an example.
Let's say I'm really good with people, so I want to build my business around the fact that I can build great relationships with customers. I'll use Reviews and Community Building as cornerstones for my business, but I need to get the word out, so I'll need to master at least one marketing channel.
I have a website, and I don't like social media, so I'll choose Google SEO. I'll place my reviews on my website and on Google using Google Business (see above for info on setting that up).
Now people will be able to find me when using Google, and my stellar reviews and reputation in the community will drive conversions. Make sure to discuss your community involvement on your website.
After doing this, I arrive at a simple Venn Diagram business plan where I will be the expert in my market at the overlap of the three pillars: Reviews, Build Community, and Google SEO.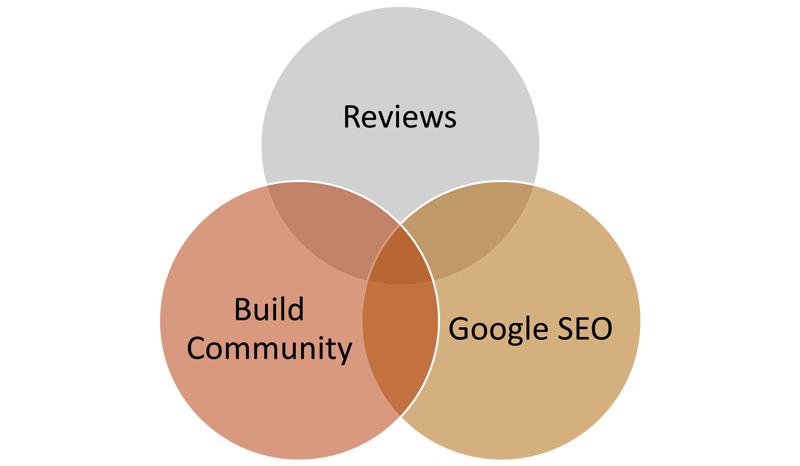 There you have it. Real tips from peers that have successful and growing businesses.
Remember, cherry pick the ideas you can start implementing today and that you have a competitive edge with. If you feel like you're at level 0 and haven't developed any relevant skills, DON'T WORRY! We all had to start somewhere. Just pick the one you are most interested in and start today.
Best of luck!
Share your ideas and thoughts in the comments below.
None of the statements above represent an affiliation or recommendation from Aramsco for the businesses above. Please do your own research to determine whether any of the suggestions above are right for your business.


Enjoyed reading this post? Read the following articles: