Carpet with loads of soil and oils has always been a cleaning issue but has been exacerbated by the dramatic increase in the sales of polyester carpet. These carpets used to be found primarily in commercial buildings. However, triexta fiber currently dominates residential carpet sales. Oil loves to bond to polyester, which also includes olefin and triexta fiber. Professional cleaners have demanded cleaning solutions that deal with the significant soil and oil build-up at the surface and base of the fiber.
The result was the combination of surfactants, including non-ionic and a special cationic surfactant/hydrotope. Alkalinity is included to provide additional emulsification of oils. It is easier to blend formulas with a high level of surfactants into water-based alkaline products. A powdered based formula will always provide more alkalinity and less surfactancy. Both will aim to do the same work with the powder relying more on alkalinity than surfactancy and the opposite for water. Some of these formulas will add some solvent and others will not. A citrus booster is always a good idea in the presence of heavy oils.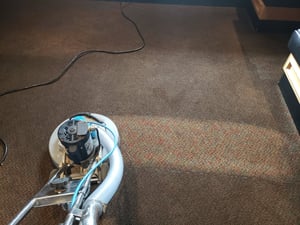 Both surfactants and alkalinity will emulsify oils and soils into micelles for easier extraction. Surfactants assist the penetration of the cleaning solution to the base of the fiber. A lot of soils find themselves at the base of polyester fibers since they do not absorb moisture. The special cationic surfactant/hydrotope attracts charged particulate soil away from the fiber surface and base into the cleaning solution. This charged particulate soil includes soot and filtration soil. There are cleaning situations where the charged particulate soils dominate and the need for the special surfactant makes a significant difference in the cleaning result.
These professional solutions provide diverse alkalinity with pH > 12.0 for multiple cleaning functions. Powdered formulas typically use sodium metasilicate, a safer combination of sodium hydroxide and sodium silicate, along with sodium carbonate and sodium tripolyphosphate (STPP). Tetrasodium pyrophosphate (TKPP) is the phosphate of choice in concentrated water-based formulas due to its higher solubility in water. The presence of phosphate aids the typical rinse agent to remove the heavier globs of soil and oils found in commercial polyester carpet.
In short, blended non-ionic and cationic surfactant pre-sprays have found their place with polyester type carpets with particulate oily soils. The attraction of charged soils into the cleaning solutions away from the fibers is indeed a unique approach found in only a few select cleaning solutions. As polyester carpets proliferate into homes then so will solutions with a special blend of surfactants become the choice of professional cleaners.