In March, the IICRC published a set of downloadable PDFs that are accessible to all IICRC members. The purpose of the articles is to have something tangible that you can share with your customers after cleaning. Every PDF explains common issues faced in carpet cleaning, tile and stone, rug, and upholstery, and has the goal of helping each customer understand the service that was performed at their house and how they can troubleshoot any problems after service.
I interviewed Mike Pailliotet, the owner of the popular cleaning forum Mikey's Board, and an IICRC board member, who created the resources, to discuss the implications of how you can incorporate them into your cleaning and business activities.
Drew: How did you come up with the idea to create a shareable cleaning resource like this?
Mike: I had this idea almost two years ago when I had a bunch of downtime. I took it upon myself to create a whole bunch of consumer information sheets (which are basically shareable PDFs) that explain all of the little details that people run into on a daily basis.
Most new cleaners might have a hard time explaining these things to the customers. There are certain things that are just too detailed and I tell the customer, "I can tell you all of this stuff, but you might forget what I tell you, so let me just send you a link to my website for all of the things that we run into."
This works whether it's rippled carpet, curled edges on area rugs, oxidizers, and all of the things that tile and stone do, etc. I came up with about 50 of them, and they are up on the IICRC website. The resources are only available to paid registrants, so they add value to being a member and to your customers.
Drew: In which specific ways can cleaners use this resource to begin adding value to their business today?
Mikey: Here's an example:
I sent one out last night. A lady that I do business with bought these wool rugs and her dog proceeded to urinate all over them. She asked me if there was anything that she could do, and I sent her the pet stain and spot treatment article.
The best thing about the resources is that they are third-party verified, there's an IICRC link, you click on the link and it goes to the IICRC page, and it's not just coming from Mike's carpet cleaning page but the global authority of carpet cleaning. You would be hard-pressed to find an article that doesn't at least cover something that a customer is dealing with.
Another example is when you're explaining something that can be perceived to be your fault like the carpet rippling when you clean. You're sending your customer a scientific explanation that people can understand.
You're educating the homeowner and the cleaner looks smart and official. People love free advice. A lot of the sheets also offer tips on how to prevent the issue from happening again.
Drew: What do you think customers love about being able to share these PDFs with each other?
Mikey: It helps them to become educated about common issues and can prevent these issues from reoccurring after you have left their house. The customer can do a better job of maintaining a clean floor on their own.
Drew: Are there other benefits outside of educating the customer and helping a cleaner appear more professional?
Mikey: The customer service representative is able to help the customer when they call the company. They can now send these sheets out to help with something like carpet cleaning, for example.
Drew: What are the most popular PDFs?
Mikey: Some of the articles are regional. There are articles on animal stains and odor, bleach, color loss, bloodstains, browning and wicking, corn rolling, dander and allergens, do-it-yourself spotter stains, Kool-Aid stains, musty odors, rapid re-soiling, why rugs ripple after cleaning, off-gassing with rugs, etc.
If you're new to the job it might be hard to explain some of these things, and all of these are fantastic articles!
Drew: What are your plans for these PDFs in the future?
Mikey: We will continue to add more sheets as flooring changes. You can also track the number of sheets that each technician has handed out. Customers love free information and it helps to build trust. You can send it through text, email, or any other way that you can share a PDF.
Steps for using the resource:
To gain access to this new resource, you need to go to the IICRC website and log in with your credentials. You can find them underneath the consumer resources tab.
Once you have logged in, simply download the relevant article and share it with your staff, technicians, or customers.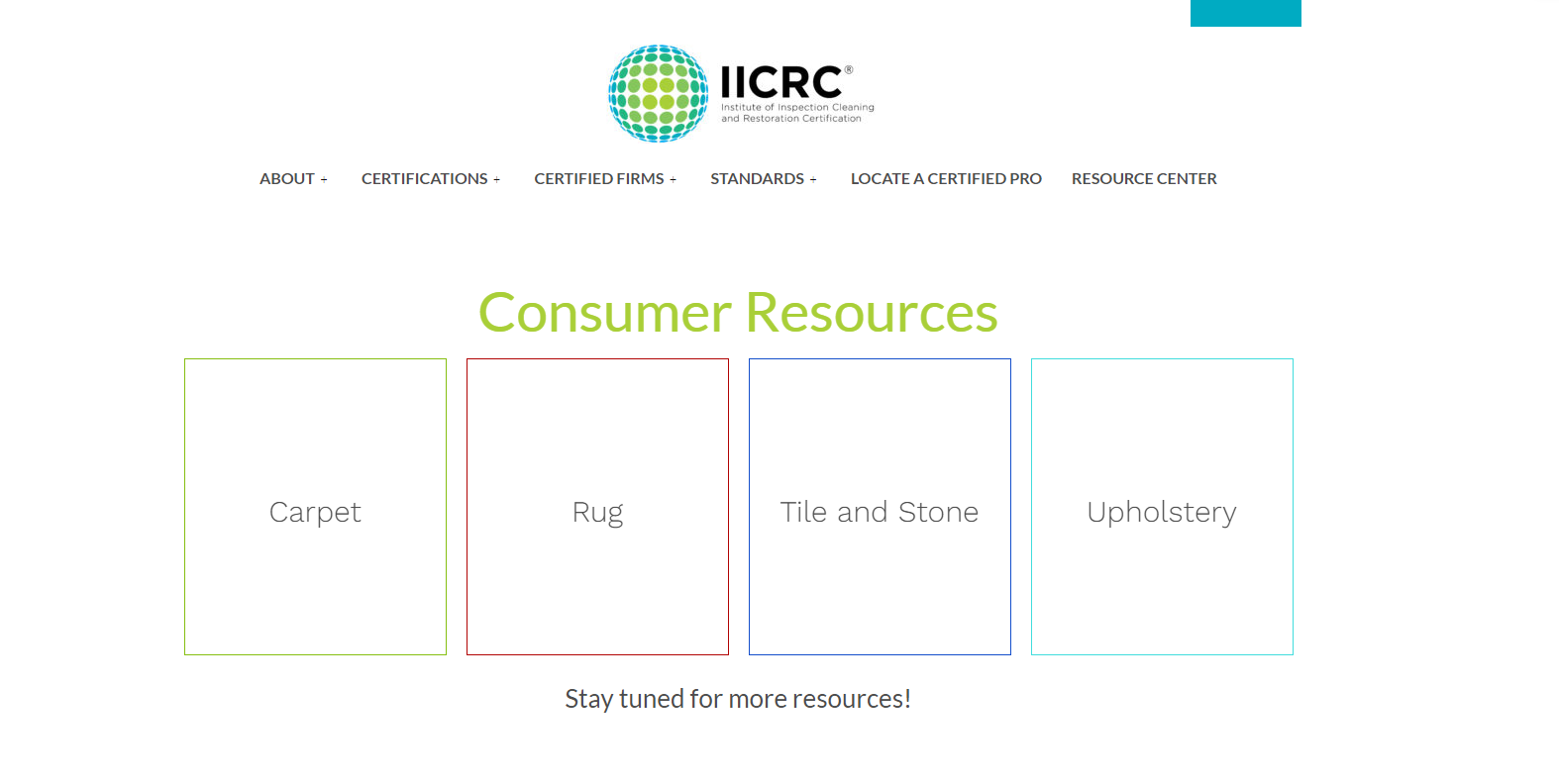 Final Thoughts
I got a chance to read through some of the PDFs, and I liked how accessible they were. There is no overly technical language present in the resources, but they are also detailed enough to justify their existence. When they use the article, your customers will feel like they can participate in the cleaning process because they are able to revisit everything that the cleaner did during their visit.
For example, in the animal stains and odors PDF, it states that the technician will use a UV light to help identify urine stains. This communicates that your technician was thorough during the inspection.
Good communication is paramount when doing business, and these resources don't just provide added value, they also provide a tangible piece of trust that customers can hold on to.
If used properly I believe the resources can improve satisfaction and help your customer maintain a clean home environment after your job. Next time you have a job you should consider sharing one with a new customer to start your relationship off on the right foot!
Enjoyed reading this post? Read the following articles: