Our Stonecrete Polishing packages are here, and we wanted to take the time to answer questions that you have so that you make an informed decision when investing in your next machine.
Keep reading to find answers to the most common questions about our new Stonecrete Packages:
What packages are you offering?
We're offering a 2,500+ square foot package, and a 7,500+ square foot package.
What is included in the package?
Each package includes the concrete polishing machine, a variety of grit diamond pads to complete the entire concrete polish, a vacuum, a vacuum hose, and a concrete densifier.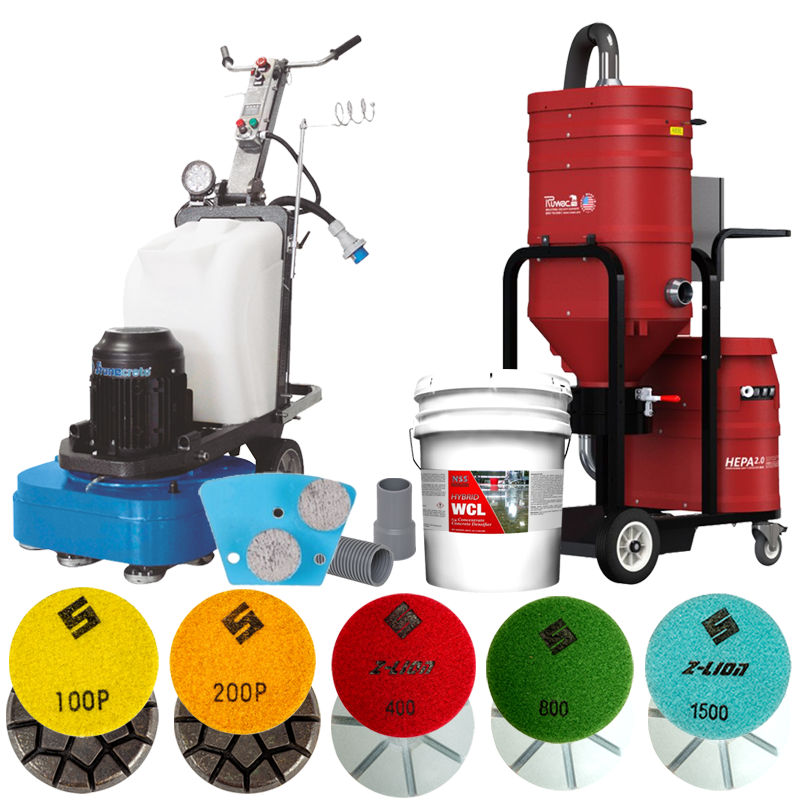 Why did you decide to offer these products in a package? What's the advantage of buying them together?
We wanted to make it as easy as possible for you to get started polishing concrete so we decided to offer everything in one place. Our team talked with our product managers about the best way to accomplish this so that we could help you save time and money. We compiled a package where you buy the grinder and vacuum and you get the pads and densifier included for free.
If you buy the 2,500+ square foot package you currently save $1,560 compared to buying the items separately, and if you buy the 7,500+ square foot package you currently save $7,823.
Our marketing team decided to put together a polished concrete practice because there is a lot of potential to grow a business in polished concrete. The industry has seen high year-over-year growth in both residential and commercial spaces. These customers love the aesthetic benefits of polished concrete and how easy it is to maintain the floor. Are you going for an epoxy finish? These packages have everything needed to prepare the concrete for epoxy.
Tell me more about the pads and the densifier? I want more details about the free equipment that's included.
The first three sets of metals are aggressive coat removal metals. We wrote a blog post that covers the nuances of selecting the right grit and bond and all of the basics related to bond selection. The package includes 6 pads for each one type listed below. You can view each one individually on its respective product page.
The next set of pads included are the resin pads. These pads are used to shine the floor and leave it with a glossy finish. These specific pads are made to work in both wet and dry conditions, making it extra convenient for a variety of work conditions. You can read more about what to look for in a resin pad by checking out this blog post.
When selecting a pad, you want to choose equipment that will last for a significant time. These resins will last you for at least 2500, or 7500 sq ft. of diamond polishing for each respective package.
You have every grit included that you need to achieve a stunning polished floor and impress your customer.
Is Stonecrete comparable to other polished concrete machines? Why am I saving so much money?
Yes.
Stonecrete is a powerful, durable, well-made machine. They are gear-driven making them last longer without breaking down. When we started manufacturing this machine we decided we weren't going to go through any third parties. Our product manager, Alex de Quesada went straight to the manufacturer to have them create a machine that includes all of the technical specifications that are vital for getting the job done right. Because of this, our machines cost less to manufacture. This allows us to pass on savings to you.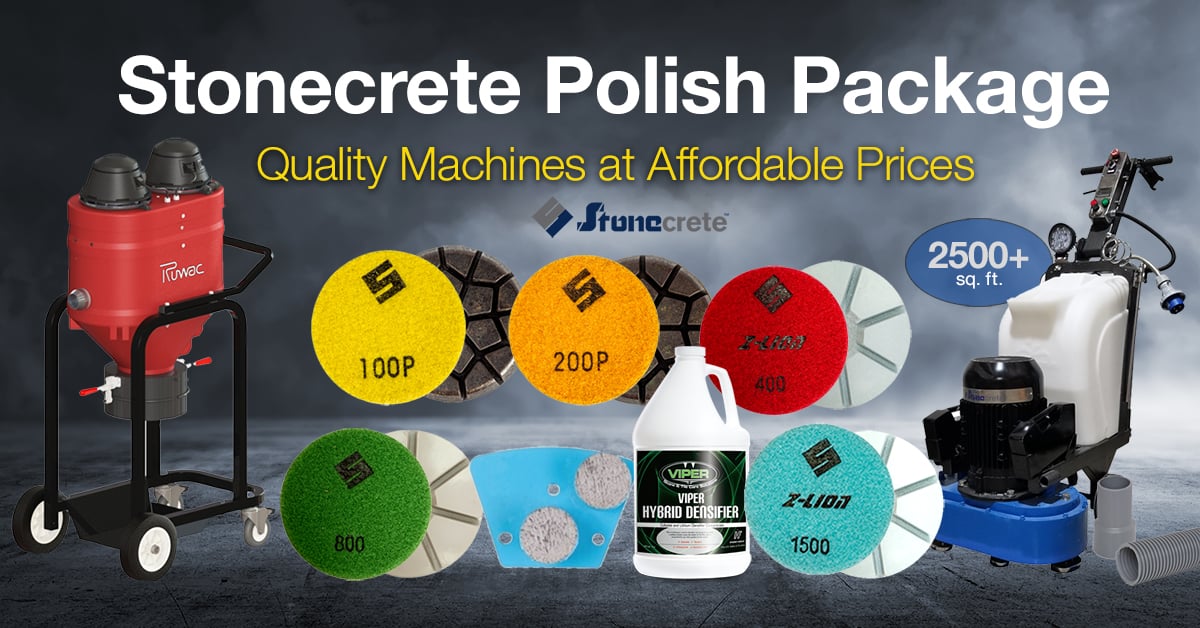 How do I know if this package is right for me?
These packages are perfect for beginners and industry veterans. The smaller package is perfect for the beginner, or if you need a machine that is smaller and ideal for the size of your project. The larger package is made for grinding and polishing large volumes, making it perfect for warehouses, stores, or other industrial spaces.
Know what machine you need? If you are covering a lot of sq. ft. the 27" machine will save you a lot of time in the long run by lowering the number of passes to complete the floor. You may be thinking it's a no-brainer to get the 27", but you might need the smaller machine for smaller areas. If you are working on jobs in a garage or residential areas, you will need a machine to fit in doorways and be able to run on residential power.
If you have any additional questions about which machine is right for your business goals, don't hesitate to reach out. We're here to help! Give us a call at (888) 718-3060.
Residential Power? Tell me more about the machine's power.
Good question.
The 23" machine runs on single-phase power. This type of power is common in your average household outlet, meaning that his machine is a little easier to power.
The 27" machine is a 3-phase machine. This means you need more power running to the machine to feed the more powerful motor.
This blog post that we wrote about the different options of grinders explains the difference between single-phase and 3-phase power machines.
The package comes with a dust collector. What do I need to know?
The Ruwac vacuum that the package comes with is one of the most sought-after vacuums in the industry. It's compatible with any type of vacuum bag (making it easy to swap out when full), and 99.99% HEPA efficient at 0.5 microns, so you don't have to worry about breathing in any health hazards when you're working.
If you want to read even more about vacuums, dust collectors, or the dangers of silica we recommend the following articles: "Series or Parallel? An In-Depth Look at Vacuum Configurations" and: "Managing Silica Dust in the Workplace"
Are your Stonecrete Machines new?
Stonecrete machines have been selling for 8 years. There are thousands of units currently in the field, and they are used by large and small-sized operators to polish concrete for all sorts of projects.
Why does the package listing say polish 2,500+ or polish 7,500+?
These numbers are a conservative estimate of how many square feet you will be able to polish with each package before having to replace the included diamond pads and densifier. There's a good likelihood that the pads will last longer than this, but we wanted to provide a range for when you will have to replace them.
While the consumables will have to be replaced, the machine will endure years of rugged performance.
I'm new to the industry, and I want to grow my business. Where do I begin?
Education is vital in this industry.
Over the next few months, we plan to start offering educational classes to teach you how to polish concrete.
Our stonecrete representatives are always available to help answer any questions that you have.
What is the advantage of choosing to finance the package?
It's essential that you know how to leverage cash when running your business.
Financing the package frees up cash that you can invest in other areas of your business, including consumables and other expenses. If you pay for a machine upfront you are tying up cash that you can use for other projects in your business. To read more about the value of financing, we recommend reading this article that covers key advice for industry-related financing.
Also, don't forget about Section 179 which enables you to save thousands of dollars by taking advantage of tax deductions.
Do You Still Need Help?
Choosing a concrete polishing machine is an exciting investment, but it also comes with a lot of considerations; we know that you want to make a decision that will lead to growth for your business for years to come.
If you still have additional questions after reading this post, please reach out to us at (888) 718-3060 and one of our Surface Prep Representatives will help you. Our team is confident that a Stonecrete machine will be a valuable addition to your business, and when combined with hard work, you can make a significant amount of revenue.